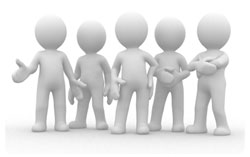 I am noticing a lot of new traffic coming in from different places and I wanted to welcome all the new reader's to The Women's Hair Loss Project and to write a little about our community. I started this blog to basically start journaling my life with hair loss. I write my daily thoughts as they come to me with all my quirks and sadness too. I write about my past regrets in treating my hair loss, the daily dealings of living with hair loss and some more lighthearted things such as my quest for the perfect hair thickening shampoo and my silly idea for a bumper sticker that says "Be Nice To Me, I'm going Bald!'
This is my life with hair loss.
I really would like to touch the lives of more women to let them know they are not alone. I've come to realize that a lot of women suffering with hair loss experience much of the same feelings as I do. Everything I thought was just me being crazy turned out to be more normal than I had imagined. For women I think that once you become a hair loss sufferer, no matter what steps you take to treat it or improve it, you are always still missing a little something, a little part of yourself. When women have the chance to read other women's stories it can be healing, I know it is for me. You can read my hair loss story here.
Already we have a lot of great supportive women who share their stories and their lives.
Read Julie's Story and see her pictures and read her wonderful put together wig buying tips.
Read Taylor's Touching Story. She has endured so much at only 17, yet she is so strong and I admire her greatly.
Also Read Amy's Story and Mira's Story along with her story on how her husband (then boyfriend) reacted when he found out she had hair loss, along with another comment she left about an inspirational hair loss story
Finding all the Posts
There is so much to read on this site and it seems that some of the articles can be difficult to find, as new items are posted the others ones slide down to the bottom of the site until they seemingly disappear. But they are all still here and there are a couple ways to find them. Way at the bottom of the site after the last post you'll see some text in gray that says "previous entries" If you click on that link it will take you to the page prior and from there you are able to click it again to go back even further. You can also search the archive pages by clicking on the drop down archive tab in the right sidebar and click on the month, and selecting the month you would like to view.
You are also able to search by keyword using the search field. Recent entries can be found on the lower right sidebar, but are limited to only displaying the 10 most recent articles. You can also search by Category, it is found on the right sidebar (left  one)  below "popular articles."
Comments
Sometimes it can be hard to find the most recent comments made on the blog so I made a special section for that on the right as well, you can easily click on the name of the person who left the comment and you'll be taken directly to it. But all the comments can be found on the actual page of the post. Click on any Post title and you will be taken to the post page with the full text and comments at the bottom. That is where you can also leave your own comments as well.
The Women's Hair Loss Project also has a special women's network attached to it, where you can create your own profile, blog, upload photos, chat, comment and have your own little space in our community to interact with other women with hair loss on a more personal level. To join click here: http://community.womenshairlossproject.com You may have noticed that on the side bar there is a category for "Blogs From Our Network" those are blog postings from network members. To comment on any of those blogs you have to be registered. Also you may notice some network members have their profile "private" so it is only viewable by other registered members, same is true for some of the blog posts.  Commenting on this site is separate from the network and doesn't require any type of registration. The "Recent Comments" you view on the side bar are from women who have been commenting on various blog topics I've written about. Feel free to leave your comments on any topic, I love hearing from you. To view my network profile, click here:
http://community.womenshairlossproject.com/womenshairlossproject/

– Read More About The Network
Thank You !!
I just want to give a big thank you for everyone who has joined the community, it means a lot to me to hear from you and to share in your life as you also deal with hair loss. Julie – 42 comments and counting, you're amazing and your insight has been so incredible for everyone. Each one of you makes me stronger.
I want to invite the new reader's to please share your story once you feel comfortable, I'd love to hear from you. You can email it to me at women@womenshairlossproject.com and I'll create a post about you.