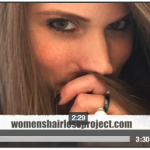 So that is pretty much a title that makes no sense, on the surface… but if you watch my video below it will. I am trying to get back into the swing of things, and when I mean in the swing of things, I mean into working on my site here, communicating with everyone (to the best of my ability) and helping in any way I can.
My main goal, since starting The Women's Hair Loss Project,  has always been to make sure no other woman ever feels she is alone in this journey. I know hair loss. Intimately.  I know what it is to deal with hair loss at a young age, since I started to loose my hair at 21… I'm 37 now, and I hope no one has to ever struggle alone, the way I did.
Once I started wearing wigs and found Follea in 2012, it ultimately,  for me was how I was able to accept my hair loss.  I really wanted women to know that there is life after hair loss, even in the worse case scenario.  I know not everyone can accept wearing wigs, it's not perfect, it's not our hair… but it can still be pretty awesome, it's been a journey to say the least.. and if you read my last post, you will know this journey still continues for me.
Over the years I have received emails with the question of why do I wear sunglasses in my videos and photos. I want to answer, and answer why I am now taking them off.  [click to continue…]
{ 21 comments }