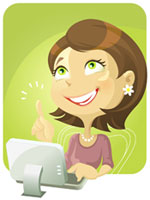 Julie had made a comment on the "Daily Hair Loss Grind" post about her suggestion for the steps to make yourself "wig" ready. I thought it was so beautifully put together that I wanted to share it with everyone here as an actual post on the blog. So here it is:
Steps to make yourself "wig" ready
Read your daily affirmations of the things you are grateful for, what makes you beautiful and strong? Do this for at least one week.
Call your friends and tell them about your "Day of Beauty" excursion and make appointments to get your nails done…makeup, whatever you want.
Locate the wig shop within the vicinity of the places you want to visit.
Write a journal about what it is you'd like to achieve when wearing a wig…create your positive thoughts and believe in them. I used to say, "i'm going to look just like Sandra Bullock with my new wig, I can't wait" or I'd picture my face in so many different styles…so I new what look I wanted to achieve.
Plan an outfit for your day…wear something comfortable and try on different hats…use makeup lightly and embellish your favorite features.
When you wake up the day you are going, don't look at yourself AT ALL! Ask your friends if something is in your teeth! Just avoid mirrors. Bring a "before" picture with you and keep it within reach, like in your wallet or pocket. Look at yourself, that's who you will be again…pick out different styles and try them on..only look at the mirror once, it's completely on your head! Wear your new look for at least 3 days and go everywhere with in on…Put it away for another 3 days and write about what it feels like for you. Find it within yourself to want change…and then do it.