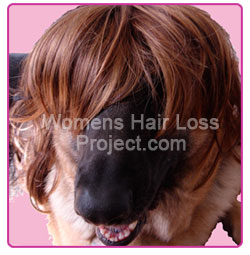 You know you are in trouble when you start envying your dog's hair. I frequently have stared at my dog's thick coat and thought to myself, "I'd gladly take his hair, even if it had to be that color, all black and tan"
I have become incredibly obsessed with staring at everyone's hair. It seems as though I can no longer watch a movie, a tv show, a commercial, the grocery clerk, the mail lady and not focus on their hair. After I watch a movie I can explain in detail every character's hair (man and woman) right down to the diameter of the ponytail, color, thickness.. and on and on. I may not know what the movie was about, but I can surely tell anyone who cares to listen, all the intimate details of the actors hair characteristics. I even notice when a hair shed's off their head and falls onto their sweater. Ha! It actually can really get quite annoying because I would just like to watch a show without focusing so much on hair. After all that is suppose to be a time to relax, but it isn't for me. I'm much better off reading a book, I think it's healthier for the mind anyway.
I guess its normal to focus on the things we lack, once had, and wish we had back.