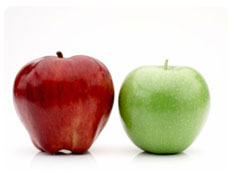 I think if you ask 10 different people, you might get 10 different answers. This definitely is a subject of much debate. My opinion is that nutrition certainly does have some effect on hair loss, having said that I don't think that genetic hair loss can be reversed or stopped simply by nutrition alone, but it makes for a good adjunct. For myself, I've attempted to employ strict nutritional perfection for long periods of time in an attempt to help my hair loss, but it never seemed to really help me, but it possibly could help you because we all all made up so differently and the causes of our hair loss are different as well.
You should always try to eat as nutritionally balanced as possible, good nutrition provides for a better more stable and clear mind, which is always helpful when dealing with anything traumatic or stressful, such as hair loss. Also, I see food as a drug, it can have immeasurable unpleasant damaging effects on the body or really great wonderful effects. Ever eat something that causes you to be sleepy, wired, cause an allergy attack or become nauseated? Something is taking place in our bodies when we eat different foods, and the effects are going to vary from person to person. I would never downplay the importance of good nutrition, not just for hair loss, but more importantly for your health. Later in this article I'll point out the connection between the body's insulin level and it's testosterone level.
It is a well documented fact that many people with eating disorders such as bulima or anorexia nervosa suffer hair loss as a result of malnutrition. The word malnutrition indicates deficiency for energy, protein and micronutrients (e.g. vitamin A, iodine and iron) either singularly or in combination. One of the effects that malnutrition has on the body is dry skin and hair, brittle nails and hair loss. Another "hair" effect that can occur from malnutrition is the appearance of a soft baby fine hair called lanugo growing all over skin. This is caused due to a protective mechanism built into the body to help a person warm during period of starvation and malnutrition. This type of hair loss is usually reversible if the person returns to proper nutrition and balanced eating, however, I also have read that long term eating disorders can cause irreversible hair loss as well.
Spencer Kobren wrote extensively in his book, "The Truth About Women's Hair Loss" about the relationship between insulin and testosterone. With his permission I am including that section here. He writes:
Sugar and Hair Loss
I've put this section entirely in this treatments chaper, even though it deals with both a contributing cause of hair loss and the corresponding preventive and treatment diet. That's because sugar imbalance isn't a primary cause of hair loss. It it, instead, a strong contributing factor in the hormonal imbalance factors that are at the root (again, pardon that inevitable pun) of most kinds of hair loss.
As you'll recall from The Hormone Connection section in Chapter One, the delicate balance of male and female hormones is crucial to the issue of hair loss and so are the hormones regulated by the thyroid. But another hormone also plays a role in hair loss, and that's insulin.
The pancreas creates insulin and glucagon, which both maintain stable blood-sugar levels.[…]
What does all this have to do with hair?
The Relationship between Insulin and Testosterone
There is an important link between your body's insulin level and its testosterone. How does your insulin level tie into your testosterone level? An important class of hormones called the eicosanois, which biochemist Barry Sears, Ph.D., author of The Zone calls "the molecular glue" that holds the body together, are the master switches that control all human bodily functions. Every system, including the ones that govern how much fat we store in our bodies, a key factor in the action of testosterone, is controlled by the eicosanoids.
Dr. Sears realized that, if you can control the eicosanoids, you can control virtually every aspect of human physiology. He created The Zone diet specifically to balance the eicosanoids.
Using The Insulin-Testosterone Link to Foster Hair Growth
Because of the insulin-testosterone link, by controlling your insulin levels you can also control your testosterone level. Though a sugar-balancing diet, you can help regulate your testosterone levels and create an internal physiological environment supportive of hair growth.
Foods affect hormones quickly, anywhere from a few minutes to a few weeks. Scientist already know that diets high in animal fats trigger the release of more testosterone into your blood-stream. Studies have also shown that low-fat or vegetarian diets lower levels of testosterone into your bloodstream. A low-fat diet also lowers estrogen levels in both men and women. Have you ever noticed that obese men can have breast enlargement? That's because someone who is overweight, even a man, is more likely to have a higher level of estrogen.
All in all, a high fat diett throws your normal hormonal balance into a tizzy. And that affects your hair loss, since testosterone plays such a pivotal role in androgenetic alopecia and other hormonally triggered hair loss. […]
Although Dr. Sears did not mention hair loss in The Zone, after reading his book I though that a sugar-balancing diet low in animal fat and similar to The Zone diet – which would control testosterone, insulin and the eicosanoids – would help prevent and treat hair loss by creating a more favorable hormonal balance, and therefore, lower DHT levels. This kind of diet would also boost other hair loss preventive measures and treatments.
I spoke with Dr. Sears, and he agreed. "At the molecular level, balding can be viewed as a hormonal disturbance condition," Dr. Sears said. "It is clear that the hormone dihydrotestosterone (DHT), which is a breakdown product of testosterone, is a major contributor to baldness. Therefore, interventions that lower DHT levels should have a beneficial effect on balding." Whether you lower your DHT levels by using pharmaceutical drugs, herbal or natural treatments, or diet, the outcome is helpful as both a preventive measure and a treatment […]
****
This article doesn't even touch on the value of using supplemental vitamins for hair loss, I will address that topic in another article.