Resources
New to The Women's Hair Loss Project? Read The Welcome Post
Do you know of an excellent hair loss resource? Send me an email women@womenshairlossproject.com
Alopecian Muse – Must visit blog site published by one of my dearest friends, Angela. For laughter, inspiration and other musings of a bald diva, visit The Alopecian Muse.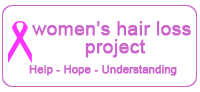 Join the Women's Hair Loss Project Network to meet other women
with hair loss. Share your thoughts, comment, rant, rave, laugh, cry...communicate.
Click To Join
Just Launched -
Join the NEW Forum
for The Women's Hair Loss Project. If you are already an existing member of the
Network
then you already have an account set up and will need to use the Reset Password link to enable your forum account.
Click To Join