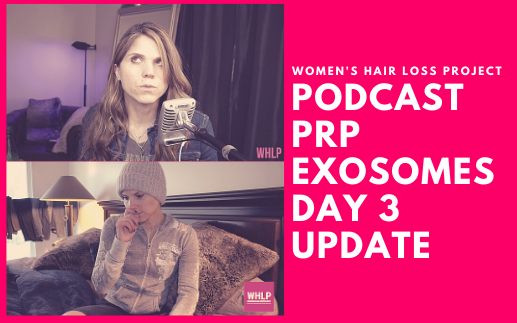 On May 8th I posted a podcast (Episode 9) titled "My PRP Journey Update and The Power In Decision/ Action." I also recorded video with it, which is just a video recording of the podcast, and I will post that below, along with the video I made this morning providing my Day 3 update since having my PRP & Exosome treatment here locally in Los Angeles.
If you've heard the podcast, you can skip down to the second video, but if you haven't, I do think it's worth hearing to understand my whole thought process that went into deciding to do this, before taking the step to shave my head. This way, down the line if I ever reference 1,2,3 – we can all be on the same page as to what I am referring to as it pertains to the system I had put in place years ago for myself, that made living and accepting my hair loss situation completely manageable, doable, and removed it [hair loss] from controlling my life — dismantling the power it had formerly held over me, prior to my 1, 2, 3 system. Okay fine, if you just want the punchline… here it is:
1) Wearing wigs (allowed me the ability to look and feel like myself again). Critical.
2) Cutting my hair into a massively short cut (quite often shorter than most men's hair cut in the back), basically buzzed at back/nape and longer in front to integrate with my wigs. That action also happened same year as I started to wear wigs (2012). Cutting most of my hair off did two things. One, shorter hair tends to look thicker and two, it allowed me to not see the majority of the shedding. Seeing the shed (to me) is ONE of the most debilitating aspects of dealing with hair loss. My hair is so freaking short, there are no tangles… which means the fallen hair is likely gonna slide out right in the shower without my knowledge. Usually. Total Win.
3 ) Lastly, and quite important for myself… PRP therapy (started doing this in Nov 2019). PRP therapy didn't grow all my hair back, but it reduced the shedding, and slowed the progression of my hair loss. This was important to me. I do like to utilize some of my hairline with my wigs to enable them to look more natural and I also enjoyed keeping as much hair on my head as my body would allow. So 1,2,3. That's the system I had in place. For a longer deep dive into my mind saga please listen to the podcast.
[click to continue…]
{ 1 comment }