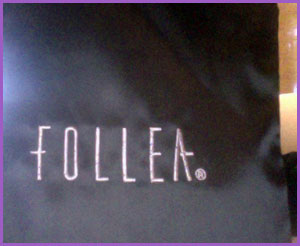 This past week has been a busy busy wig week. Last Sunday I went to Milano Wigs in Los Angeles to buy the WiGrip. The WiGrip is this handy dandy little strap that ties around your head like a comfy headband and keeps a wig in place without the need for clips or a comb. Amen! I kid you not, this little invention is amazing. I've seen several other similar grips online, they all look the same and probably function exactly the same as well.
Whilst at Milano Wigs I was taken in by the massive amount of wig supply they had there, a showroom filled with a ton of wigs that you can just try on by yourself. At first I felt awkward, out of place and a bit timid, but pretty soon I was flinging those bad girls on my head left and right. I think the plastic wig head fumes got to me and I ended up purchasing 2 wigs, that quite frankly are likely not going to see a lot of wear time. The wigs are quality wigs, don't get me wrong, but the color isn't exactly right for me and they don't look as good on me as my Freeda Wig (Rina), or my new Follea Wig… but more on that later.
I think what is pretty fantastic about Milano wigs is their partline, sharp and distinct, they look amazingly real. Also it doesn't have that knotted tight hairline problem which I experienced with Rina. It lays quite flat and looks very real. I also found out that this shop does coloring, cutting and repair on any wig, not just wigs purchased from them, so I ended up taking Rina in to try and have the hairline knotty bundle smoothed out and perhaps be made to look more natural. I get her back next week, so we'll see how that goes. I am thinking I might also have Rina colored to better match my hair color and also have some long side swept bangs put in.
I've been on a wig rampage, determined to find that perfect, ah hem.. "hair enhancement" aka wig. I was quite interested in seeing two particular brand of wigs because of their reputation for quality and awesomeness, Follea and Flora Wigs. Flora is located in NJ and also in NY and since I'll be in that area soon I thought I would take the opportunity to set up an appointment with Flora which I did do, but ultimately ended up canceling it this past week because I bought a Follea wig and there really isn't room in my budget for two wigs in this type of price bracket, but I'm still very interested in checking out Flora's wigs at some point. I'm curious how it compares with Follea and what the pluses are to each of them.
This past Tuesday I had an appointment with the stylist at the Follea Salon in Beverly Hills, I was anxious, nervous and excited and I didn't know what to expect. I decided to wear one of my Milano wigs to the appointment, you know get as much "wear time" in my wigs as possible to get used to the whole thing. So my fiancé and myself piled in the car Tuesday morning and let the voice of the navigation guide us to my wig destiny, er.. destination. We arrive at the salon, knock on the door and are greeted by the stylist Vicka and her assistant Geena. My first impression was that I really liked the intimacy and privacy of this salon. It's definitely very comfortable and personable. Immediately after walking in, I had to excuse myself briefly to go to the restroom, my fiancé stayed behind in the salon. Upon returning he told me he had good news, which was that Vicka had thought my wig was actually my hair! Kudos to the Milano wig and point for the wig wearers of the world!
I removed my wig and let my thin tresses beneath be shown. Vicka had me sit in the salon chair and she started pulling out some of the Follea wigs to show me. On the phone with her I had expressed my desire to see their lace fronts so that is what we started with. The first thing I can say is that touching the Follea hair is an experience all by itself, silky silky smooth hair. Just amazing. This particular lace front wig on the other hand, not my thing. There is way too much volume in that wig and also the hairline seemed very harsh. Now granted, I didn't have it put on exactly as it should, if you were actually going to be wearing this you would trim the lace to fit you etc., but from what I could see just putting it on, this was not going to work. What I did immediately find strikingly awesome was the fit of the cap. Holy canoli. This cap perfectly cups and cradles your head. In my very short wig journey I have yet to find a cap like this.
Onwards with more wig show and tell, and Vicka pulls out a wig from their luxury collection that is almost a spot on match for the hair I had once upon a time. This wig was supreme and very long, 21″ from top to tip I think. I was in awe of how amazing I felt in this wig, and how beautiful it was. I was looking at someone in the mirror who was someone I used to know a long time ago… me. My fiancé was incredibly impressed with the realness and gorgeousness of this wig and both Vicka and Geena agreed it was a great match. Vicka had also showed me a dark blonde wig that actually was from their previous collection, and even though this wig was blonde because it had darker roots it also blended quite well with my hair and I LOVED the way I looked in it. Absolutely loved it! I'm not a blonde, but I could definitely see myself as one now! I kept going back and forth between which one I should take, the shorter blonde wig or the long glamorous light brown one. Decisions, decisions…
Ultimately I ended up getting the luxury wig and wore this unnamed beauty out into the streets of Beverly Hills. I stepped out onto the street and felt like a new person, I saw my reflection in the mirror and was surprised that THAT was ME. My hair loss usually makes me feel very out of place wherever I am and especially in a place like Beverly Hills where everyone looks so pretty, so put together with perfect hair (whether it's theirs or not). But for the first time, I felt I belonged, belonged to the world around me, not an outsider looking in. My fiancé and I sat outside at a close by Mexican restaurant, and I was in pure bliss. I would never ever normally sit outside with my thin hair, I usually prefer the table inside in the dark corner, but here I was, outside and being comfortable for the first time in a long time. We enjoyed lunch and ogled over my hair. We eventually found our way back to the house, I went upstairs to comb through this luxurious maven and it was at this point my super high was greeted with a bit of a low.
This glam hair was tangled and wasn't untangling that easy. None of my other wigs really tangled and if they did get tangles they would easily came out. I was dismayed and bothered, this didn't seem right. On further inspection it seemed the ends where a bit drier too which could account for the tangling. For the price of this wig, I didn't feel it should tangle this way, especially not on the very first night. I did recall Vicka saying there was a 24 hour return policy, and had I actually read all the paperwork I would have known whether or not this was for exchanges only or also refunds. I wanted the hair so badly that day that for all I know the paperwork required me to give weekly blood donations 🙂 Like a bad girl, I didn't really read the forms I signed, I just found the dotted line and scribbled away. Of course now I had a bit of a sleepless night wondering if I would return this wig or exchange it for something else. While perfect in every other way, a tangled wig on day one is not the way to start off.
The next morning my fiancé called and spoke to a Follea rep, Holly, who was very nice and said that that it's no problem and to bring it back in and we can see what we can do. I made another appointment for noon that day and soon enough found myself back in the salon explaining the situation to Vicka. She was definitely understanding and also saw for herself that the wig did have a bit of a tangle issue on the ends of it. She felt that a washing might be just what would be needed to resolve the issue, but that piece just wasn't for me anymore, I needed something I knew was as close to perfect out the door as possible. I struggle enough with my own hair I don't want to struggle with my wig too ya know? That morning I had looked at the Follea catalog and knew which wig I wanted to see, it was a medium length from their Lifestyle collection, I even had the color circled, #C5030. This wig was perfect, I think it suited me much better because the hair is shorter (15″ top to tip), the color seemed like an even better match, and the shorter length meant it was even lighter. The style was a style a wore many times in my life prior to to hair loss, long layers and all around yummy. I also did try on the blonde wig again and contemplated that for a bit, but ultimately at this time the right purchase for me was a wig that would be the most natural and undetectable to those who see me around. The exchange was made, the difference was credited back to my credit card and off we went again, hair in hand (literally) and off to another lunch in Beverly Hills and then back home for some wiggy playtime.
I knew I was keeping this wig so I decided to wash it. The wig had been in a bag so the top was flattened out, I wanted to see how it looked after a washing and comb through. I placed the wig on a styrofoam head and washed her gently in the sink, being careful to not put conditioner on the top of the head as Vicka had let me know that could loosen the knots. Afterwards, I gently towel tried the hair and combed it out… the tangles came out very easily as I would expect they should and I hung the wig upside down to let it air dry over night. I did't think of the hang upside down trick myself, rather it was a tip Vicka had given me that allows the wig to dry in a great way and have a good look. The next morning I eagerly went downstairs to visit my new lady in waiting, and holy wigatoly this wig came to life after a wash and an upside down hanging. The hair laid perfectly from the crown and it had a really nice natural volume to the top… just spectacular. It was great when I bought it, and it got even better.
For the past two days I've worn the wig from morning till night, all day and all around everywhere. My parents stopped by the house the day before yesterday and they didn't even notice anything. What? Right? My mom, the woman who gave birth to me didn't even realize the hair that crowned me that day wasn't my own. Of course the entire time I felt at any moment a question would be asked, but nothing, not even a glance up at my hair and my parents will often speak up when they notice something. I was surprised but my fiancé wasn't, he said it's the most natural thing he's ever seen in his life and that he would never in a million years know I was wearing anything. He said people might just think I got highlights in my hair. At the grocery store yesterday a checker that a talk to frequently saw me and didn't notice anything either. Is this possible? With each passing moment that I wore this beauty I began to gain more confidence in what it was achieving.
Knowing that I have this secret weapon by my side has even made seeing/dealing with my own hair more bearable. Knowing I am not at the mercy of my thin wisps for how I want to portray myself to the world has made all the difference. While I am not going to wear my hair 24/7 it has provided me with security, a confidence that I can go anywhere in this hair, any lighting, any place, anytime. I have often felt that my hair has held me back. I would try and get dressed up, only to be let down by my hair time and time again. No matter how pretty my clothes, or how perfect my makeup, my hair was the nail in the coffin every time, like wearing a gorgeous gown with birkenstock sandals. Now I have the hair that matches the clothes, it all comes together perfectly, to put together the me I have wanted to be for so long. It's truly life changing. I'm not going to say wearing a wig is perfect because it's not, lets face it it, it is still a wig and as such does have it's limitations. The cap is the most comfortable cap I've ever felt in a wig, but I still do know it's on my head, so there is that awareness throughout the day. But who cares? I would much rather put on the hair I want and know it's there rather than to feel uncomfortable about myself and uncomfortable in my own skin, self conscious and less than. If someone figures out it's a wig, yay for them, but they surely will have to acknowledge that it is in the very least, one fine ass looking wig. LOL!
So as I type this I don't have my wig on, she's getting her rest upstairs. I have my hair in a ponytail and I am feeling better about my current state of hair loss affairs than I have in a very long time. I feel hopeful, not that my hair is going to stop falling out or grow back, but that I now have some type of solution, a real tangible, guaranteed, reliable solution I feel good about. Gone are the worries of how my hair will look when I go out to dinner, I know exactly how it will look each and everytime I want it to look that way. Knowing I don't have to fight with the blow dryer for hours to get my hair to look just "ok" is a huge weight off my shoulders. I'm still going to continue with my hair loss treatments that I do as I do want to try and keep as much of my own hair on my head as possible since I will have plenty of real hair moments without my wig, i.e. going to the gym, lounging around the house, grocery shopping etc.
I don't have any delusions that I am not going to be called out about my wig at some point, by a friend or family member, but until they ask I'm not going to offer it up (or perhaps I will on a case by case basis).  I am certainly not going to deny I'm wearing a wig, I just want to see how many people figure it out for themselves. I can definitely see a lot of pluses to wigs that could in time end up being a lot of fun. Blonde one day, a redhead the next? Yes please! I still reflect on my brief time with my glam hair I had for a day, and I think eventually I'd want to get a longer piece for sure, but for day to day wear, the medium length hair was the way to go.
One thing I learned in my very short amount of time with buying wigs is to try not to get discouraged if the wig you are trying isn't working out, keep looking and searching for the wig that best fits you in most every way that is possible, color, length, style. If clips hurt, use a WiGrip or a similar type headband to get the wig to stay in place. Also, no matter what, when that wig gets on your head the first time it's going to resemble Cousin IT or something close to that, or perhaps that is just me. LOL. For myself I have to work the style in once I get the wig on my head, it doesn't just land there perfectly, it definitely takes some finessing to get these girls in place and to look in tip top shape.
So is this the perfect solution? Well, I'm not sure if there is a perfect solution, but it is certainly a wonderful enhancement to my life and the best decision I've made in a long time. No regrets. I still hold the "bonded hair toppers" as the holy grail because you get to actually "live in" your hair. There is more of a commitment with bonded hair and I'm too much of a scaredy cat to make that leap just yet, for now I'm just loving my new hair and wondering why I didn't do this before. Baby steps…