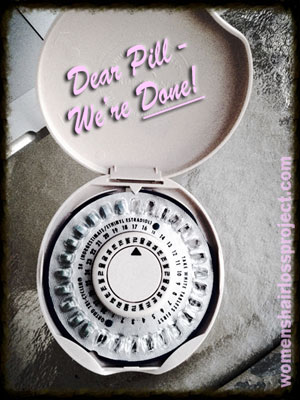 I'm sitting awake in my hotel room in Florida. My mind flooded with thoughts and my fiancé snoring soundly beside me. I had no chance of sleep I tell ya… no chance.
As usual, Florida time means PRP time. I did have my 8th PRP therapy treatment with Dr. Joseph Greco yesterday afternoon. At first glance all seems the same, snoring fiancé, PRP, Florida, hangover…. but it's not. About a month or so ago I made a very hard personal decision for myself, and  just to bring you up to emotional speed on this one, just starting to type the word "decision" started the tears rolling down face, because it's a decision wrought with so many emotions and so much pain.
My hair loss started in 1999 (I was 21 years old) after the cessation of the pill Loestrin FE, dumb luck struck and that one act caused the following years of misery, sadness and self loathing as I tried to cope with losing my hair. I was so incredibly alone when this happened, I was desperate, beyond desperate and I was willing to try and do anything I could to just get the shedding to stop and hopefully get my hair to grow back, so I made a choice I have regretted ever since. At the suggestion of a physician I got back on the birth control pill. While the pill can be the cause of hair loss, doctors also use it to try and stabilize the hormones to treat it. I didn't want to, I was so scared, but I did. Many times I've wished I was stronger and just said no. No to the doctor and no to myself. I knew what the pill did to me the first time, why get back on something I would forever be a slave to? Good question. Answer: Desperation and lack of foresight.
Getting back on the pill essentially meant never being able to get off it. The amount of shedding that occurred when I got off the pill the first time was INSANE, I'm talking about waking up to fist fulls of hair on my pillow. I had a ton of hair back then and while no one wants to loose their hair, looking back I had hair to spare. I have none to spare today I can assure you. Knowing this, I started to feel very trapped on the pill, how could I ever get off again? I was stuck on a medication I had so much animosity towards and worse my hair continued to decline so I had no way of knowing if it ever helped in the first place, and since we all know we just love to poke ourselves in the eye with our torture sticks, I'd constantly remind myself that I never really allowed my body the chance to heal on its own, to stabilize it's own hormones without the use of any medication. Maybe in a few years time all would have resumed to normal, or maybe not, but I'll never know.
So as the years past I've continued to take the little devil pill nightly, almost twitching every time I have to open the little pack. Freaking out if I fall asleep without taking it and having to take it a few hours late, lord knows I don't want to upset the birth control pill hormonal gods and cause a shed, almost feeling feeling like I'd have to say a prayer for taking the pill late, "Dear Ortho TriCyclen, forgive me for I have sinned, I drank too much and passed out, that is why I was late taking you, please don't punish me and make my hair fall out even more." Okay maybe that's dramatic, but you know what I mean. I've had abnormal bleeding, and cramping that is likely a result of the pill, and my gynecologist want to switch me to a different pill many times, but I've informed him that would result in a switch in doctor first. There was no way in hell I was going to change or get off the pill. Changing the pill to me is the same as getting off it, it could trigger a shed just the same.
I've lived this way for years. A slave to a pill I did not want to take, feeling trapped on it… essentially forever. While I have never wanted to have kids, it did sting as well that if did want that, choosing to have a child meant, making the choice to say goodbye to whatever hair was left (potentially) then trying to get pregnant after an over decade long stint on a pill that keeps you from getting pregnant, then wondering what all the hair loss drugs I threw down by body over the years would or could potentially do to that baby, I could go on and on with this. Excuse me one moment, while I reach for my torture stick again… This point really is moot, I don't have the mommy gene, and I don't think it was ever in the cards for me, but still a suckie thing to live with just the same, yes? We want to feel like every choice is ours, this is OUR life, but many of my choices left me feeling trapped, imprisioned and terrified.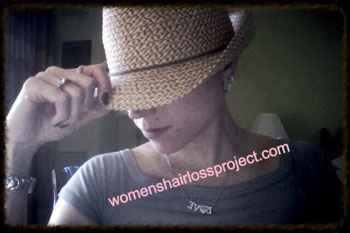 I'm 35 years old now and part of taking back my life from hair loss, is choosing to no longer put my health second to it, this included getting off my 200mg of Aldactone last year, and it includes facing my biggest fear, getting off the birth control pill. Getting off the pill means I may have the biggest shed to end all sheds, I kid you not.  Without having enough hair to endure that shed, if that happens I have made the decision that I will shave my head fully, put bangs into all my wigs, and as I said to a friend recently… "simply pray I look as cute as Zooey Deschanel." 😉
It may be hard for some people to understand why this is so hard for me since I do wear hair full time, but wearing hair full time doesn't mean you want to sit in a pile of massive shedding and watch your hair decline even further in a matter of weeks/ months. My hair loss is progressive, this I know and accept, but I'd like to keep it at the same declining pace thank you very much, and not send it into warp speed or anything. I've reached a good place in my hair loss life and I fear rocking the boat, but I fear not doing it even more. If I don't do this now, when will I? 40, 45? 65? Will they put a little birth control pill pack in my coffin with me when I'm dead? Oh that's a fun image. Seriously when? It happens now or it happens never, and I'm done with sacrificing my health for my hair. Mind you, I've had a hard time over the years dealing with the fact that I feel I caused my own hair loss by taking the pill in the first place, I feel I would be emotionally finished if I knew I took the pill and THAT (the pill) was a cause of some future devastating health condition, because it would have ALL been for my hair. My hair isn't worth it, especially now, but really it never was worth putting my health second to it. I absolutely have to take this part of myself, my life, back…now.
I made the mistake of googling up getting off the pill after 13 years and reading about all sorts of issues women encounter, including acne, insomnia, hormonal issues and on and on, and that it could take over a year for the body to recover. Oh goodie and I thought I JUST had to worry about hair loss. UGH! But that is certainly even more of a reason to address this now. I feel my body will be more responsive at healing and dealing now at 35 than in later years to come.  I know there are a plethora of other reasons why women are prescribed and choose to take the pill, and I'm not saying it's the worst thing for everyone on the planet, I'm just saying it was the worst thing for me, physically and emotionally.   I don't think there are ever any absolutes when it comes to matters of health and treatments, we are all different and individual and as such our bodies respond differently as well and our needs are different too.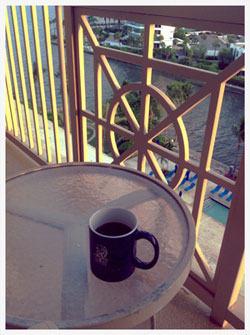 Here we are, Florida, there is daylight out and still more snoring 🙂 I have found that the PRP has been successful in helping me to decrease my overall shedding and that is why I have continued to do it over and over. I live in Los Angeles, but fly to Florida to have this done not because I like super long flights with layovers in Atlanta, but because I believe it has been a positive thing in my life. I scheduled my last PRP session around the time I got off my Aldactone and I didn't experience any appreciable shedding from getting off it that I could see,  though I also did cut my hair short so that probably helped visually too, but whatever it is, I'm sticking with it. I'm hoping the PRP can save me from the shed I fear in getting off this pill. Hoping. Hell or high water, I'm done with treating my hair, other than treating it to new gorgeous wigs of course 😉 Yes PRP is a treatment, but it uses your own blood, there are no meds, it's something I'm comfortable choosing to do.
Four more days. My pill pack ends in 4 more days, and that will be the end of it. For better or worse, I choose to no longer be a slave to my hair loss in every which way and that includes taking medications for it. So goodbye to my past, and hello to the future. I hope other women don't wait as long as I did to return to the land of the living, I hope choices they make are because they are genuine well thought out choices and not random stabs at desperation. I've talked abut the pill a lot in my earlier posts on this blog and whenever someone would ask "should I take this or should I take that?" my answer always was and is: Make the choice you can live with, not just for today, but for 15-20 years from now too. I've made choices I've had trouble living with, but it's never too late to right the wrongs I've done to myself and never too late to do that for yourself as well.
Much love from Florida, now who has the mimosas?
XOXO
P.S. If anyone has gotten off the pill and experienced positive health benefits and improvements from doing so, please please drop a comment below to share it with me. I could definitely use some positive inspirational "getting off the pill" love. LOL