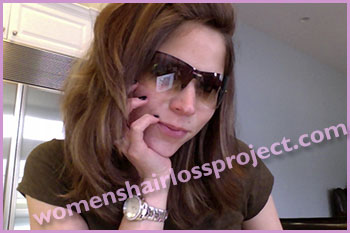 I'd like to start this post by saying while this post isn't ultimately about my hair loss, I still blame it to the nth degree because, well lets face it… it's hair loss so it's easy to blame, it sucks and it changes us in ways we are sometimes unaware of and it certainly can leave you with a bunch of loose pieces even once you finally think you got that puzzle put together. Someone contact Rubik's, my cube is missing some squares!
Recently, I've received some emails inquiring where I've been, and here I am to give you that update. It's not sexy, it's not glamorous, but it is my life. Well there is a sexy component to the update, but that will be for another post and involves a swishy new Follea wig that I've named Natasha. She's shorter (like Natalia) she's sassy and she's proudly joined my F-Lineup of European hair beauties, but Natasha will be for another day (though she is the girl in the pic with me).
Searching for the missing squares….
I contemplated whether or not I should write this blog, but I find that often sharing is beneficial, for me and for anyone else who reads it and who can potentially relate, whether it's hair loss or something else. This post will be the "something else," and it will be strongly geared toward my life dealings at the moment, and how living with hair loss impacted me in ways beyond which I could really grasp when I was so focused in the moment on the actual "loss," as in watching my hair fall out and feeling helpless and powerless to it all. Again, hair loss isn't all to blame, but it exacerbated an already existing condition.
Last May 2012, I did the best thing ever for myself…. I leap into wig wearing landia and never looked back. After living with hair loss since 1999, I said "FU" and got me some hair. Yay me. There is post after post and a lot of videos I've done on this, and how it has changed my life for the better, so you must imagine that confetti fell from the sky and life was a box of chocolates right? Well there was a box of chocolates and some cake (on many occasions) and I ate them all, but I digress. Life improved for me in so many ways (too many to count) but I was still saddled with something that has haunted me for years… Social anxiety, generalized anxiety and phone anxiety, and that last one is a real hum dinger. Most people that know me, know that I'm more of a "Don't call me and I won't call you" type girl. Like for real. Don't call me (ever) I won't answer. Text… Yes. Email… Yes. Phone… Goodbye, and I will seriously need to reevaluate our friendship if you thought that was the best mode of communication for me 🙂 I primarily do mail order for clothing, and if I do go to the mall you can expect I'll be the first one there when it opens (less people) and grab whatever I need in 10 minutes flat.
Of course I force myself to do things and see people and do go out in public areas, restaurants and bars, and for a lot of people I probably "appear" normal, but it's always a struggle for me… until the cocktail arrives, well then things just get a little better. Isn' t that always the case?  Truly, I'm much more content living in a cave. In public I'm easily distracted and basically socially blackout at times. So… if we were out to dinner, I possibly wouldn't be able to recall the conversation the next day because I had such a level of anxiety my mind checked out. In addition to having.. errrr.. anxiety issues, I deal with some level of OCD or OCPD, whichever. I like perfection (and control) when it comes to certain things and when it's not perfect… my mind goes awry and can't be still. It's like a mental short circuit. You can probably easily imagine how that would complicate things like wearing hair that's handmade (it's always going to vary to some degree from piece to piece) but even with my issues… Follea was so fab, that I seem to be able to get myself the perfect wig (for me) everytime. Yay Follea.  I like consistency, organization, making lists and charting things (how's that for a tagline on a match.com profile LOL). Let me know when I start sharing too much, K? 😉 There is so much more to these quirks, but I don't want to bore you with each and everyone. The point is, sh*t ain't right.  There are many practical uses in the workplace for this in the need to constantly strive for perfection, and exactness, but in regular life… sh*t ain't right.
With the help of my new bevy of swishy hair beauties, I get to feel like myself again in the respect of portraying myself to the world as I want and not being a prisoner to my hair loss. I've cut most of my hair off (and written it off) and dropped all my hair loss medications. F-R-E-E-D-O-M. Let's say it again, F-R-E-E-D-O-M. Feels awesome. But wait, crappola, even with that, I'm confronted with the fact that I hid from the world (for the most part) for over a decade, that I still now have this tremendous amount of social anxiety when I go out. Socializing is a skill in my opinion, and if you stop doing it for that length of time, it can be really difficult. Depending on the social situation, the amount of people involved etc., my skin flushes (badly) and I can get actually physical shakiness and nervousness. I simply don't want to be this way anymore, it's not fun, and Tatiana totally disapproves.
Before I go on with that… a few months ago I got massive Rosacea flare up that left me feeling like I was a shoe-in for the lead role in phantom of the opera, and I'm talking about the role AS the phantom. It was horrible, and it wasn't showing any signs of improvement despite all my efforts. It is now improved, but flaring up on the dime of a flush. Anxiety = Flushing. Flushing can inflame Rosacea, and now I really need a drink, but wait, drinking = Rosacea. God help me, and you if you are still reading this 🙂 ha.
So what now? I'm a Roscea anxiety ridden person with fabulous swishy wigs that is still not living 100% as I really want to, and that falls under the category of "No Bueno."
I decided to do what I should have done years ago, see a psychiatrist. Yes I'm gonna sit on a couch and tell him how crazy I am and take comfort that perhaps I'm not the craziest person he's ever seen, but wait, if you've been following this you know I don't do phone. Try and make an appointment with a psychiatrist when you can't make the call! After a week long unsuccessful stint of trying to get a doc to email me back for an appointment my fiancé actually made the call for me. Weird much? Yes, but it is what it is. So a few weeks ago off I went… petrified. Surprisingly due to the magical powers of Yelp, I found a really good doctor that I'm comfortable with who I feel really understands what I am going through and dealing with in regards to my social anxiety and OCD thingy ma-bobs. Do I talk about hair loss? Not really, I did mention it, I did mention I wear wigs and that kind of was the extent of it. My hair loss isn't my issue nowadays, how weird is that? I mean it is, in that I still have hair loss, but it isn't in the respect I don't give it any power anymore. As I sat there I thought, gosh I should have done this years ago for myself, probably not for my hair itself (since I don't really  know how much that would have helped to talk about for me) but dealing with the anxiety aspect of it would probably have been of great assistance. Like I mentioned, I had anxiety and OCD issues before my hair loss, but the anxiety was taken to a whole new level after I started dealing with it.
I think everything perhaps happened at the right time, I was reluctant to take an Advil when I was still in the quest to save my hair, and I would refuse medications that doctors wanted me to take for my asthma or something else. I was so afraid to take anything because I just never knew what could have potentially further exacerbated my hair loss, and that was a chance I was never willing to take, even for my health. Sad but true. I'm in a different space now. I want to live the life I want to live and be free from the ropes that bind me from moving forward in my life. I'm 35 and I sacrified all of my 20's and some of my 30's to my hair loss and supreme self loathing, time lost and time I'll never get back. Later with that. Lesson learned in passing out on life for my hair loss, I'd like to get this anxiety thing in check and move on already. I'm willing to be open minded and even take medications (if necessary) that can help me accomplish what I need to, and be the person I want to be…. me.
It's important to remember we script our own life journey, sure there are other players that will throw yucky ink blotches on your paper, but it's still YOUR life script and YOUR journey. Something messy on your page? Flip it over and start a new.