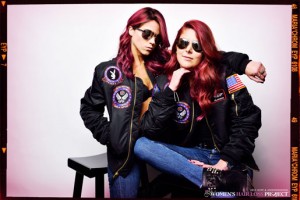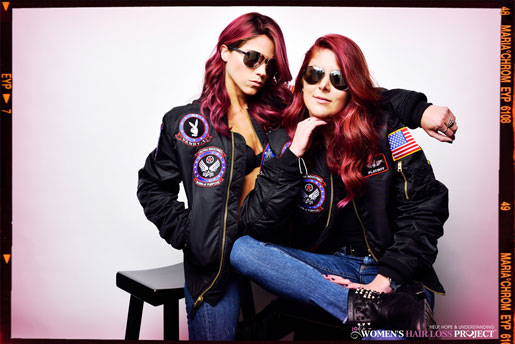 EEEK (in a good way) my hair is pink! Well, pinkie purple 🙂 The story behind this concept for the entire photoshoot (as a whole) that I shot last Monday, is longer than this post will delve into, but… I wanted to share a few of the pics with everyone because I was so excited with how they came out! Concept in short form for this photoset, all things being equal… Two girlfriends, same sunglasses, same jacket, same tank top and even same exact pants, nearly same color hair, could you tell who is wearing hair in the photo? Would you even think either one was wearing hair? Since all of you know me, it won't be hard to pick me out of the photos, but if you didn't, and objectively looked at this picture, could you really tell? In some of the photos, you'll notice that somewhere along the way my tank top got lost, but I swear I had one when the shoot started! LOL
What I realized in the days following hanging out with one of my girlfriends (Sophie) who has tons of her own hair, was that my hair was on par with looking as good as hers. Our texting back and forth sharing selfies of the nights prior from when we went out, were about just us and reminiscing on the fun… not my hair, but for some reason one day, that stood out to me… like, hey, my hair looks as good as hers, I told her about that… and she replied, "Actually, sometimes I think it looks better." 🙂
I wanted to capture and illustrate the beauty of wearing hair.
As you have seen I recently had purple extensions thrown into one of my wigs, and was excited with how fun it was, it felt special and different. I began losing my hair well before I had time to do anything fun with it, I was too busy dealing with the loss and just wanting to keep it in my head. My own bio hair has not been colored since I was 18 years old, when I had a run in with a box of store bought red hair dye in college, a fun experience that was not.
While Sophie and I were lusting over various pink/purple hair colors,  I decided I wanted to actually have a wig colored to that very fashionable and unique color, I mean why not? I told her I thought if she was into it, it would be awesome and amazing if she would do the photoshoot with me and that meant having to dye her own red hair, purple/pink too! She didn't hesistat for even a second. I was only tasked with finding wardrobe, she had the challenging task of achieving the hair color we wanted, both on a wig and on her own hair! Yes, this Sophie is the Sophie who is one of the hair stylists at Follea, and apparently master hair colorist because what she produced with amaze balls and nothing short of spectacular.
…And, I want to thank her here. She works with wigs, and I wear wigs, but while that may be how our friendship started, she has since truly become one of my dearest friends. So thank you girl, for your friendship, for sharing my passion and love for helping women dealing with hair loss and for supporting my vision for this photoshoot, while getting your skin colored pink because no one was available to color your hair and you showered yourself in hair color getting yourself prepped for the shoot, and for of course producing the coolest looking hair color ( on a wig ) ! I have gotten an insane amount of compliments on "my" hair in the short time I have worn it.
It's a bit ironic if you think about out, I hid for so long. My hair loss threw me into hiding, I was a hermit, developed huge social anxiety and was always self conscious someone was looking at my hair. Now I'm wearing pink hair, and I could not be screaming any louder to the public "Yo, look at my hair, it's pink!" Life is funny like that.  So here is the start of perhaps a #pinkhairdontcare women's hair loss empowerment campaign. Or just the start of me showing you lots of amazing and fun pictures. Either way, the point is the same…  no matter where you are today in your hair loss journey, or how far away it seems to be able to reach a place of acceptance, I am living proof it is possible. All the photos below are untouched, I applied a filter to the first two for fun, the last two have no filter applied, so you can see the hair color in true form.
Much Love To All!
XOXO