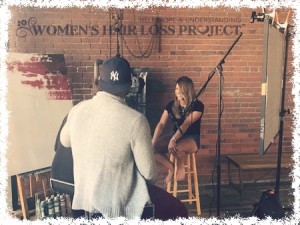 I'm way over due for life updates. Forgive me, this year went zip zip. I will be back with more on me.
This past week, while everyone was prepping their Thanksgiving day dinner, I met up with a group of amazing people to start a project towards de-stigmatizing hair loss and hair wearing for women. As odd as this may sound, through hair loss I have found love and friendship, I have found a greater self acceptance of myself that I never knew I could ever achieve, and the ability to connect with others who are like me. I have found the perfection in imperfection, mostly 😉
The day of the photoshoot, I woke up with a major rosacea breakout. Perfect skin the day prior and the day of it looked like Mike Tyson punched me in the face, I was swollen with a rash all over my face. I was icing my face at 4am. The photoshoot began at 7am. This on the heels of already accepting I wasn't going to be whatever vision of scale perfection I had in mind, thanks to my new anti depressant keeping my body in a fluffier state. Lights, camera… holy crap, but a lot of time, planning, effort and money went into this and I wasn't going to back out. The old (younger version) of me would have totally backed out and flushed it all down the drain (I've grown leaps and bounds), but jacked up face and all I knew this wasn't about me. This was about helping women, it didn't matter what was going on, on my physical being, that reality was more important… by far.
The amazing makeup artist was able to conceal my redness, and the swelling did come down, but my face was itching throughout the day, it wasn't a walk in the park for me.  As my girlfriend told me, I guess this was god putting you to the test again, to show you your strength. I'll buy that. My face held up for the 12 hour shoot, upon arriving home my face was cooked. Literally. Cooked. Laying in bed that night I thought, omg… if I could get through the day dealing with that I could probably pretty much deal with anything, seriously. I'm still applying skin ointment to my flaking and itchy face as I type this.
If we keep our heads down, if we hide ourselves away we will miss the beauty and opportunities that surround us, even amidst our daily struggles. Last Nov, I was a part of a Follea photoshoot that was aimed at presenting video tutorials on wearing hair. Through that day I became incredible friends with Follea's stylist, Sophie. I came in that day to wear some hair on camera, and I left with a sister. I win. Hair loss … loses. Point for Y! We've had quite the year and ride together, it's been amazing… a unique friendship of a person wearing wigs (ahem) and a person who doesn't, but fully "gets it" implicitly and has a passion for helping women, has offered up some rather interesting life scenarios… a friendship match that could only be made in hair [loss] heaven.  That day I also met an fantastic photographer, it was kismet.  Nearly one year later, we all stood in a studio (with my rosacea face) creating work to help provide hope to women dealing with hair loss.
I put together a behind the scenes clip for you to all enjoy. Many thanks to Alex Hafner for his production skills, talent, and passion.

P.S. If you ever wonder what I'm up to, you can always check out my Facebook page: https://www.facebook.com/womenshairlossproject/