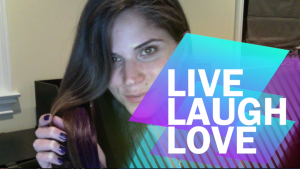 I reflect back on my hair loss journey, and if you asked the 21 year old scared girl beginning to loose her hair in 1999, if she could ever imagine life with and after hair loss, she (me) would have said, "NO" and then cried uncontrollably… as I always used to do… daily. Impossible to process, and yet here I am. I'll be 38 years old in 2 months and this affliction stole over a decade of my life. I am not making use of hyperbole when I say that. My 20's came and went, and all I had were memories of devastation and a complete feeling of being helpless, powerless and destined to exist in a state of forever suffering. Paralyzing.
I've written a tremendous amount on my blog about my hair loss, finding my acceptance… removing the shackles of hair loss and taking back my life.  This change came for me in 2012 when I started wearing hair and realizing, that while not perfect in the respect that it's not growing out of my head… it was perfect enough. I could go out and portray myself to the world, as I wanted to be seen (the way I looked before my  hair loss) and feel good about myself again. It was a process, it took time. I cut my hair super short (buzzed in back, long in front) so I didn't have to see my hair fall out anymore and I could have a cute edgy hair cut that I could wear, one where people would think I just was just so bold to wear a style like that, not knowing I do it out absolute necessity. Since my hair loss began when I was so young I never really got the opportunity to do anything fun with my hair… cuts, colors and styles etc., was not an option. I was just praying it stopped falling out.
Recently I saw a woman on television that had pops of pink streaks in her hair, and I thought… I want that! Like now.  It was cute,  and I wanted it, and I certainly can't do that to my own hair,  so why not throw it in one of my wigs? Quick trip to see Sophie and Follea in Beverly Hills, and zip zap… pops of purple awesome extensions in my girl ! It was actually something so simple, and I just was so over the moon with it, it felt so fun and different (different for me anyways). I will be going back to get some more pieces added on the other side and back, I'm all over this now. Options are limitless. My wigs add to my life, and I feel beyond fortunate I was able to reach a place where I let my preconceived notions about them go, and just try it. It is a wig, yes…  and as a good friend of mine says, "it's hair magic and it's awesome." I'd say 99% of the people I know and that see me anywhere, Starbucks or grocery store (wherever)  now know I have short hair and I wear wigs, it is how I live, and I don't hide it…anymore. Sometimes you are wearing eyeliner and mascara, sometimes not… and sometimes I'm wearing a wig, and sometimes not.
On New Years Eve I went to a great party with my wig on (of course) and several weeks back I went to the same house for another party for Super Bowl. Some of the same people who were at the NYE party said, " wow you cut your hair!"  I replied casually, "Nope, that was a wig," and they were stunned, in a good way, saying they would never know. No crazy reactions, no inquisitions, nothing… because I'm so comfortable with it, it makes everyone else around me comfortable. I don't always go deep into my personal reasons for my short hair and wig life, if I need a quick reply, I always say "My own hair is thin and can't grow long, so if I want long hair, I just throw it on." Simple.
So that's my little update! Hope you enjoy the video!
Much Love to All… XOXO