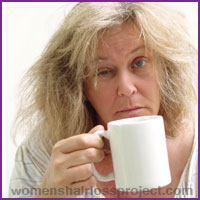 I never really stop to think how much effort I put into trying NOT to think about my hair loss and how exhausting not thinking about my hair loss actually is.
I avoid mirrors, strong overhead restaurant lighting, I turn the bathroom lights off before going in (in my house). I'd do it in public to if I didn't think I'd get tons of grumbles and nasty comments from the women already in there. Ha! Unless they had hair loss, then they'd give me a high five. Typically when I need light I use softer lights that are sort of dimmed.
Up in the morning, early 5:00am start to the day. I shower and I comb my hair quickly trying to get past the torture. Shower is always fun pulling the hair out of all sorts of odd places including my deriere. Oops stuck between my fingers, rinse it off, rinse it off or paste it on the bathroom wall. Always fun to look at after. Comb, scoop, comb, scoop, hair into the toilet. I pull my hair back in a ponytail or up in a clip to avoid feeling the hair fall all day. However, (as thin hair ladies know) the clip can hurt since it sits so close to the scalp with none of that pesky "hair padding," it can become quite itchy and bothersome, so I loosen it up to make sure it's perfect and set for the day. Oops now my hair looks flat on the left side. Do it again…oops now it's flat on the right. Oh my gosh I look like a

human ice cream cone, with no hair on the sides and a little on the top, the shape of my head has me looking like a Mister Softee. Do it again, darn it now my gaping center part is shining for all the world to see. Hummm I don't remember it being that thin before. Maybe I should use the blow dryer some more. Blow to the left, blow it to the right. Apply clip strategy again, ah this "style" is okay. My simple clip style takes longer than it looks, same for the ponytail. This hair over that hair, brush here, brush there, trying to maximize every strand. Volumizing shampoo, volumizing conditioner, volumizing spray, volumizing mousse, plump this plump that. Poof it's still flat. Part my hair one millimeter to the left of its normal part, nope, one millimeter to the right, yes that's just perfect. Now I can begin my day. I glance at my watch, I wonder what activities are left to do on this Saturday at 10pm.
Happy Sunday Ladies!
–Here is a cute video I stumbled upon. It's from the website Jewlarious. Which I believe is the humor section of the Jewish website Aish.