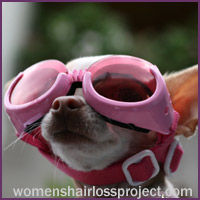 I got up this morning, walked the dog, came home, fed the dog. Threw on some workout clothes and hopped down to the gym (garage). I put my earphones on, I turn the ipod on, and I started the treadmill. The first song queued up is one of my favorites, and it just puts my mind at such ease and makes me smile. The song only lasts three minutes and thirty five seconds, but that's enough. Enough to put my mind in the right mood and enough to set my day up with possibility. I of course played the song over and over since I wanted to draw out as much serenity as possible 🙂 I jogged along and felt content and… dare I say… happy. Sure my hair is falling out, it fell in the sink, it fell in my coffee, stuck to my sweatshirt, but I was happy. In that moment I felt right.
I think we need to take more time for ourselves, to do the things we enjoy and remind ourselves of living. It's way to easy to obsess about our hair loss and worry about the future, but in doing so, we so frequently miss out on today, the beauty around us, the beauty within.
So now I know you are dying to know what song I was listening to. Well here it is for your listening pleasure (just click on the play button below) and your three minutes of freedom:
"Put Your Records On" By Corinne Bailey Rae – Best 0.99 cents I ever spent on iTunes!
[audio:https://www.womenshairlossproject.com/wp-content/uploads/2009/03/happysong.mp3]
Wishing you all a beautiful and HAPPY Friday!
Enjoy life, enjoy freedom, enjoy being you.