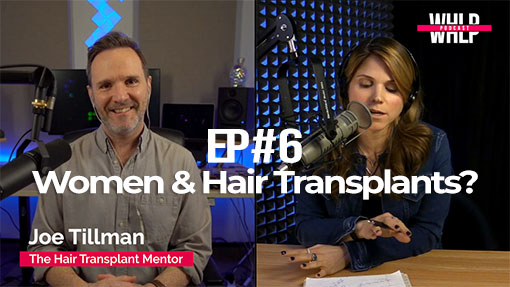 For this episode I am joined by Joe Tillman The Hair Transplant Mentor to discuss the topic of women and hair transplants and if women actually make good candidates for this procedure. It is my understanding based on my what I've read over the years, and also based on the experience I have with my own type of hair loss, female pattern baldness aka androgenetic alopecia, that women like myself are NOT candidates for hair transplant surgery. I wanted to dive deeper in to this topic and get the facts from an expert, so that women can be empowered and educated when making decision on treating their hair loss. 
While I wasn't surprised to hear that in Joe's opinion, 90% of women are not candidates for hair transplants, I got educated in learning about which procedure would be preferable for a woman if she was in fact a candidate, the controversial industry topic of Follicular Unit Transplantation (FUT) vs Follicular Unit Extraction (FUE) for women's hair restoration surgery
In this episode Joe will discuss all the reasons why 90% of women are not candidates, and he will also discuss the other 10% of women that could potentially be a viable candidate.
Follow me on Instagram: @whlpnetwork

Please feel free to email me with any show topics you would like to hear discussed: y@whlpnetwork.com