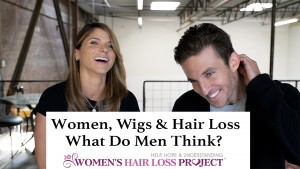 I think one of the biggest concerns women have, in any state of their relationship when dealing with hair loss and wearing hair is… acceptance and understanding – of their situation, of themselves. Will my partner accept me? Will my future partner accept me? How am I going to date with a wig? What about being intimate? The questions are endless. 
I had the pleasure to sit down with Alex Hafner to discuss his perspective on this topic. He's seen first hand my own wig wearing, met me with hair and then I just took it off (pretty typical for me), no warning. Just taking it off now. Everyone act natural. Pretty much, like that. I've readjusted (off and on) my wig in public restroom, wig swapped on a plane, and my hair was passed down the aisle of the plane to a woman that was interested in the whole thing, and quite fascinated to learn more. Basically, when I'm done with my wig, it's coming off and whoever is around just better be prepared, or not… doesn't matter much to me at this point. It's just part of me and my existence and life style. 
It has been my personal experience, that men don't really mind that women wear hair, including if you tell them you are wearing hair because of hair loss. My freedom has come in acceptance of my situation, I have hair loss, I wear a wig. I gave up on wishing all my hair would return, and that this situation would somehow change. The only thing I really had control over was how I could manage and deal with this hand I've been dealt, and it took well over a decade of suffering and praying and crying to get to that place. I hope others get there much faster.  I truly do "own" my situation, and accept it for what it is. I think that is why the response of those around me, men & women, has been so positive. Often when I get complimented on my hair, 99.9% of the time, I say, "it'a wig." I don't have to, but I do. Usually I'm met with disbelief and I take it one step further and have them feel, where the WiGrip sits at the nape of my head and watch their expression, the moment where they realize, I'm not joking… IT'S A WIG.  Good times. 
What do men think about women, hair loss and wigs? 
Well, at least we can find out what this one man thinks !  It's a start ! 
I'm sure every man is different, and I'm sure the dealings that women have with their own situations, with wigs and hair loss will be different. What I have read by women on this site, is that their partners have been quite supportive.  Having said that, it's also fairly common that they may not initially understand the scope and magnitude of it all as well. They aren't trying to be insensitive, they just aren't truly understanding it all, or unable to grasp it.  That goes for pretty much everyone in our lives, whether it be a friend, parent, or spouse. They don't always "get it," at least not initially, and some, never do. They accept it (hopefully), but they don't "get it," or the impact it has on our lives, the toll it can take on our outlook on life, our present, our future, and how we feel about ourselves as women, how we feel about ourself PERIOD. 
If our family and friends don't fully get it, but accept us, that's okay too…  it kind of has to be, we can't expect everyone to understand to the degree we wish they could. Some will, some won't. But when it comes to our partner, our spouse, the person we wake up next to everyday, I raise the bar. Personally, this person will need to come to the table with acceptance, love and a desire to understand.
In a dating world, I personally would come out immediately with it all, because I recently turned forty,  and honestly, I don't have a lot of time to waste in waiting 1 week, 1 month, or 1 day, to find out you (my hypothetical significant other) aren't gonna like me because of this "situation" I have going on here *waving and pointing my hands over my head*  🙂 
Hope you enjoy the video!
Much Love To All,
Y