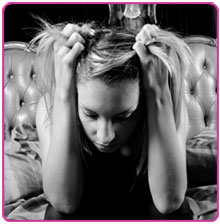 Wow, I'm so happy I just found this site…I'm 20 years old, have had been genetic hair loss for four years now. About 2 years ago I had a biopsy done and my derm told me it was probably genetic, he put me on Rogaine, Spiro and Yasmin. I was on those meds for about a year… and they did absolutely nothing. Last year in the fall my hair loss was getting really bad and I was getting so desperate for something, so I spent over $1000 on getting Invisible Hair extensions. I was assured by so many people that they would be safe, and definitely the perfect solution. The extensions were great! I loved having so much hair and planned on having the extensions put back in. Well when I got them removed for the first time I was SO devastated, more than half of my already thin hair was gone.
Its been since January now since I've had them out and I feel like I've hit the bottom. I'm in college and can't concentrate on anything. I'm always way too focused on everyone else's hair and I feel like I'll never feel normal again…I haven't been able to wear my hair down since I got the extensions taken out. My poor hair is
still falling out like crazy… it's so thin I can't even wear it in a ponytail, I feel like I will be bald soon.
I'm so scared, nobody seems to understand. My best friend and my family just tells me to cope with it like its no big deal. I feel like I have no where to turn. That's why I was so glad I found this forum…I really sometimes feel like I'm the only one experiencing this and it's comforting to hear everyone's story. I'm not sure what to do with myself, I hate going out, even going to school because I just feel so ashamed…I don't even know where to start looking for a wig around here (I'm from Portland, OR). And I feel like seeing another doctor would also be pointless. Anyways, Thanks a lot for listening to my story.
~Veronica
*******************************************************
Dear Veronica,
Thank you for writing and sharing your story, I'm so sorry you are having to go through this. It probably is of mild comfort, but know you definitely are not alone and there are A LOT of women who start to lose their hair at young age. Who knew? I definitely didn't until I started going through it. Here comes my usual disclaimer I provide on every question I respond to. I am not a doctor and cannot provide medical advice or treatment, this is just my opinion. Ok…
After reading your story I have so many questions. Did your dermatologist put you on Rogaine, Spiro and Yasmin all at the same time? You said you are 20 and have been experiencing hair loss for 4 years, so you started losing your hair at 16 and saw your doctor at 18. Did he provide any explanation as to what might have trigged your hair loss at such a young age? You stated that after a year the medications did nothing, but you didn't say whether or not you stayed on them or took yourself off. I'm curious because if you took yourself off after a year and the following year noticed a rapid decline in your hair, then perhaps the drugs were doing more than you thought. Sometimes all the drugs can do is slow the hair loss process down and help you maintain the hair you have,. Not all women experience a phenomenal regrowth after treatment. Even after I started treatment, I never regained the hair I had and was pretty convinced the treatments weren't working so I eventually took myself off of aldactone around 2003… I think. The dates get fuzzy. Anyways, my hair loss increased dramatically. That could have just been from getting off the drug and it may have re-stablized eventually, but that scared me enough to get back on. Not only did I get back on aldactone, but when I got back on, I had my dose increased from 100mg to 200mg a day.
If you would have asked me then about my hair, I would have complained about the hair I once had and that it was so thin and continuing to fall out. But looking back it was doing fairly well after the 200mg increase. I'd say my best hair year since experiencing hair loss, was 2004 (began losing my hair 1999). I definitely had regrowth during that time. Now is different, I've had exacerbated shedding since the beginning of 2006. But that may not be from my treatments failing me, rather it could be from the increase in my thyroid medication that took place last year and this year as well. After speaking with several doctors and researching it online, I've found out that in some people synthroid causes hair loss. The last doctor I spoke with also confirms my suspicions and believes that it is possible the increase in dose may have been too much for my body. Because of this I have decided to lower the dose back down to where the dose was in 2004-2005. Thyroid problems can cause hair loss, but so can the thyroid drug itself. Why am I telling you all this? I'm repeating what I've already written to illustrate that there are so many variables that can contribute to hair loss, so we sort of have to be our own detective and try to figure it out. Hopefully, with the help and guidance of a knowledgeable physician by our side.
Hair extensions… I myself have thought about getting them, but I've read and been told that fragile hair can't withstand the weight and it can cause further hair loss. Even people without hair loss can experience the problem of losing hair from hair extensions. I read an article awhile back about Jennifer Aniston having experienced hair loss after having her extensions taken out. But still I look online for that one hair extension "process" that would be okay. So don't be hard yourself about making the decision to get them done, you were only trying to be proactive and help yourself. Have you had any regrowth from the hair you think fell out from the extensions?
Veronica, I know the fear of being bald, of never wearing your hair down, of having forgotten what the weight of hair even feels like. You are not alone. I struggle all the time with my sadness and depression. I search the internet constantly for wigs, looking for images of women with shaved heads to know it is okay. I turn into an envious zombie when I'm in public, as I gaze at the beautiful hair of the women around me. In fact I've recently purchased 3 wigs online, that didn't work out. I'll save that for another post though.
But I am very aware that there are options and there is life after hair loss. I've seen the strength of other women on this blog, I've seen the strength of other women in society who deal with so much more. We are stronger than we ever imagined… than we give ourselves credit for. You are strong. How do I get through my days? With the knowledge that we get a vote with what happens to us, we are not powerless. We vote with our actions and attitude to not let hair loss take us down. What is the worse case scenario in my mind? The worse case is I lose all my hair. I try and remind myself that if this happens I can always get a bonded lace front wig similar to what Tyra Banks and Beyonce wear. Or perhaps a non bonded regular human hair wig. I can change my hair everyday. Red, blonde, brown, curly, straight, long or short. Or maybe I'll let it be and reach a point of so much internal strength that I walk out into the world without the security of hair, and just proud to be who I am.
I see shows of people who have lost their limbs, some lose the ability to walk and they seem so positive, they live their life. How have they figured it out? The secret. When I figure that out, I'll be free, free from the shackles of hair loss.
You are not alone Veronica. I am sorry to hear that your best friend and family don't understand. Why don't you point them to this site, why don't you tell them to read the stories of other women. Maybe seeing it in print will help them realize the devastation hair loss causes and it is definitely a big deal. I guarantee your best friend wouldn't be so cavalier about it, if it was happening to her. Since you've shared your feelings with your best friend, you should talk to her and tell her you need her support. It would be great if she could accompany you to look at wigs should you decide to go that route. Family not understanding, I think that's common. I used to share my feelings and sadness with my family, but it never really registered, so I stopped talking about it all together. Although, my dad did say if he could he'd give me his hair, too bad I can't take him up on that, he has great hair! 🙂
I wish I could help you more, I'm glad that reading other women's stories has been comforting to you, it is for me as well. Thank you again for sharing your story.
Tomorrow isn't promised to any of us, so we have try and figure out a way to enjoy today.
~Y