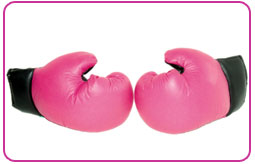 In the ever constant battle I have with my hair loss I strive to be victorious and triumph over all that it has seemed to take away from me. Some days I feel I am a clear winner and remain productive, pushing the obsessive hair loss thoughts aside, tying what's left of my hair back, and walking out the door to get on with my life. Other days I feel like I got kicked in the head by godzilla's foot. Obviously since I'm writing this today, it is clear that today is one of those kicked to the head days and my hair loss has got the best of me… for this moment anyways.
What frustrates me is that I try so hard to move on, but I'm constantly reminded that I have so little hair on my head. I just got done doing a pretty decent session of cardio. I ran on the treadmill for 60 minutes, hoping the run would clear my mind and help me to be more positive today. But… it's hard to enjoy the run when the sweat rolls straight down my head and I can feel it all over, itching every part of my scalp. When I had all my hair this wasn't a problem, the hair would just absorb the sweat. In the absence of my former tresses I now am confronted with pools of sweat soaking what's left of my hair and rolling down into my eyes, into my ears…. everywhere. I manage to get through all of that, constantly patting my face and head with a towel. I then go to my room to change, and there in the mirror I see the reflection of disaster staring back. My soaked head has a million streaked gaps of bald scalp showing threw my very fine hair. It was just awful.
Sometimes it feels like no matter what I do, I end up getting pulled back down and receive a forceful reminder that I'm losing my hair and things will never be the same.
I've had these emotional ups and downs long enough to know that there will be better days ahead, I will not give up. I will continue to fight to reclaim myself because…
I am not my hair
I am not my hair
I am not my hair
I am not my hair