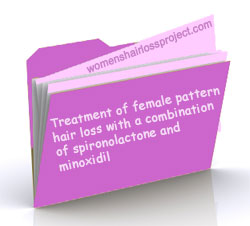 I want to thank Kate for emailing me this Case Report about the use of spironolactone and minoxidil in treating female pattern hair loss. The Case Report appeared in the Australasian Journal of Dermatology Volume 48 Issue 1 Page 43-45, February 2007
CASE REPORT

Treatment of female pattern hair loss with a combination of spironolactone and minoxidil
Carlijn Hoedemaker, Sylvia van Egmond and Rodney Sinclair
Department of Dermatology, St Vincent's Hospital, University of Melbourne, and Department of Medicine and Skin and Cancer Foundation, Melbourne, Victoria, Australia
Summary
A 53-year-old woman with clinical evidence of female pattern hair loss and histological evidence of androgenetic alopecia was initially treated with the oral antiandrogen spironolactone 200 mg daily. Serial scalp photography documented hair regrowth at 12 months; however, the hair regrowth plateaued, and at 24 months there had been no further improvement in hair density. Twice daily therapy with topical minoxidil 5% solution was then introduced and further regrowth documented, confirming the additive effect of combination therapy.
Introduction

Female pattern hair loss is a common, psychologically distressing, age-related, androgen-mediated condition that presents with increased hair shedding and reduction in hair volume over the mid-frontal scalp.1
Binding of dihydrotestosterone to cellular androgen receptors induces susceptible scalp hairs to undergo a progressive and orderly transition from terminal to vellus hairs to produce patterned baldness. Antiandrogen therapy with either spironolactone or cyproterone acetate is commonly used to treat FPHL, as is topical minoxidil.2 The mechanism of action of minoxidil is unknown, but does not involve androgen pathways.3 The use of topical minoxidil together with an oral antiandrogen might have an additive effect; however, combination therapy has not been previously reported.
Case Report
A 53-year-old woman, with a past history of hypertension for which she was treated with felodipine, presented with a 6-month history of increased hair shedding, combined with a noticeable reduction in hair volume over the mid-frontal scalp. On specific questioning she stated that the volume of her hair, when held back in a ponytail, had decreased by 30% over the past 6 months. No obvious trigger for the hair loss was identified on history. On examination she was noted to have minimal bi-temporal recession. Her hair pull test was negative. Her mid-frontal scalp hair density was estimated as Stage 3 on the clinical grading scale (Sinclair scale).
Screening biochemical investigations were normal. A horizontally sectioned punch biopsy from the mid-frontal scalp confirmed androgenetic alopecia with a terminal to vellus hair ratio of 3:1.
As spironolactone is known to be effective in the treatment of hypertension as well as FPHL, felodipine was replaced by oral antiandrogen therapy with spironolactone. She was commenced at an initial dose of 25 mg daily, which was incrementally increased to 200 mg daily over 6 weeks, carefully monitoring her blood pressure.
Serial scalp photography was used to document response to therapy at 6-monthly intervals. Compared with baseline (Fig. 1), the photograph taken at 12 months (Fig. 2) revealed noticeable improvement, particularly in the mid-frontal area of the scalp. Two years after commencing spironolactone, her hair regrowth plateaued (Fig. 3). The patient was instructed to apply 1 mL twice daily of minoxidil 5% solution. Follow up 1 year later revealed additional regrowth (Fig. 4), and the patient was instructed to continue with combination therapy indefinitely. Follow up over an additional 4 years shows that the regrowth seen with combination therapy has been maintained (Fig. 5).
Discussion
Spironolactone is an androgen receptor antagonist. In addition, it reduces the levels of the cytochrome P450-dependent enzymes 17?-hydroxylase and desmolase, both of which are required for androgen synthesis.4 Spironolactone has been reported to be effective in the treatment of FPHL at a dosage of 200 mg daily.5
In this patient, improvement in hair regrowth was seen after 12 months therapy with spironolactone 200 mg.
Hair regrowth with topical minoxidil is well documented in literature.6 Minoxidil prolongs anagen, shortens telogen and converts partially miniaturized (intermediate) to terminal hairs and results in at least partial normalization of the hair follicle morphology. Minoxidil has no antiandrogen properties.3
While spironolactone and minoxidil are established monotherapies for FPHL, the different modes of action of these two therapies make it logical to combine these two agents. However, we are not aware of any reports of combination therapy in the literature. The additive regrowth seen in this woman with FPHL and biopsy proven androgenetic alopecia suggest that combination therapy should be considered for women presenting with FPHL.
References
1. MessengerA, De BerkerD, SinclairR. Disorders of hair. In: BurnsT, BreathnachS, CoxN, GriffithsC (eds). Rook's Textbook of Dermatology, Vol. 1, 7th edn.
Oxford: Blackwell Science, 2004; 1–120.
2. YipL, SinclairR. Antiandrogen therapy for androgenetic alopecia. Expert Rev. Dermatol. 2006; 1: 261–9. CrossRef
3. MessengerAG, RundegenJ. Minoxidil: mechanisms of action on hair growth. Br. J. Dermatol. 2004; 150: 186–94. Synergy, Medline, ISI
4. MenardRH, GuenthnerTM, KonH, GilletteJR. Studies on the destruction of adrenal and testicular cytochrome P450 by spironolactone. J. Biol. Chem. 1979; 254: 1726–33. Medline, ISI
5. SinclairR, WewerinkeM, JolleyD. Treatment of female pattern hair loss with oral antiandrogens. Br. J. Dermatol. 2005; 152: 466–73.Synergy, Medline, ISI
6. LuckyAW, PiacquadioDJ, DitreCM, DunlapF, CantorI, PandyaAG, SavinRC, TharpMD. A randomized placebo-controlled trial of 5% and 2% topical minoxidil solutions in the treatment of female pattern hair loss. J. Am. Acad. Dermatol. 2004; 50: 541–53. CrossRef, Medline, ISI
The PDF Has Images of The Woman


Download PDF