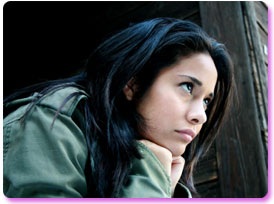 Hi, I was happy to stumble across your site. I've been living with hair loss since I was 16 and have finally begun steps to healthfully and happily "deal" with it.
My mother, father and younger sister are all faced with baldness. It's most definitely genetic for me. Through out high school I dealt with the rude remarks from other kids and never felt entirely pretty. I started on rogaine when I was 16 and saw very little response, finally stopping it at 18.
I then began wearing my hair pulled back in a pony tail, but as my hair continued to thin I had to cover my hair with an additional folded scarf or bandana to cover my hair on the top of my scalp where it was thinning the most. I was extremely self conscious and had trouble being in public with out my hair strategically covered. When I turned 25, just this last March, I decided that I needed a change and bought my first wig because I wanted to wear my hair down. I'm not trying to fool anyone, and there's still a lot to get used, but it seems natural enough that I can pass as a woman with hair. It's just hard considering I don't know any other 25 year old women who wear wigs. I just needed to take control and I felt I deserved for once, as a young woman, to feel pretty and feminine.
No swimming, no wind in my hair, no warmth of the sun on my head and face.
Those are things I really miss and hope to one day gain the self confidence
to enjoy again. I'm contemplating shaving my head completely and hope to one
day feel confident enough to do that.
I look forward to reading your's and others' stories and hope to find strength in the knowledge that there are other young women out there dealing with the same issues.
****************
Dear Larissa,
Thank you so much for writing and sharing your story with everyone. You wrote that you hope to find strength in reading other women's stories, I found strength in reading yours. I admire women who find the courage in themselves to move forward and take whatever steps necessary to make them feel good, like buying a wig, adding hair or shaving their head. I haven't reached that point myself, but I feel like I'm getting closer…Baby steps.
Like you, I also didn't have any success with Rogaine. Is your family supportive? Are you able to talk to them about your hair loss. It is hard for my family to truly understand my hair loss no matter how hard they may try because most of them have all their hair. It seems I was the only one left without a chair when the music stopped… or dare I say, left without my hair
But seriously, it's hard and I hate feeling uncomfortable around my own family. My mother's hair started to thin when she went through menopause, but she still has more hair than me, and while it bothers her she doesn't understand what it is like to be to start losing your hair at 21 and devastation it causes.
For myself, suffering with hair loss has taken so much from me and left me feeling alone. Being able to communicate with other women and read their stories has helped me tremendously. I want more than anything to be able to put a period on this part of my life and move on and I want to help other women to be able to do the same. Part of that healing is reading the hair loss stories of other women, knowing we are not alone in this. So thank you again Larissa for sharing your story with us.
~Y
{ 3 comments }