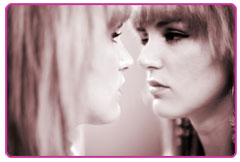 I was at the mall yesterday with my fiance and he pointed out a young girl that was working at a mall kiosk. She was very young, definitely still in high school, and she had severe female pattern hair loss. It appeared she had put some extensions in as well which were quite apparent due to the extreme thinning. She was interacting normally and didn't really seem shy. I was thinking how hard it must be for her, to go to high school and work in a mall with a lot of young people and have to be going through something like hair loss. It was very hard on me to begin to lose my hair at a 21,but I can't even imagine how hard it is to have to go through it while still in high school. Everyday I see so many women losing their hair, some are young girls and some are older. I'll never forget a librarian I met back when I was 21 and in the infancy of my hair loss. I was of course at the library researching hair loss to try and help myself. She was sitting at a desk and I went up to ask her a question. Her part was so very thin and wide and I thought to myself "Oh my god, thank god my hair loss isn't so bad," but I was also worried I would be in her shoes very soon. From that point on I began to compare my hair loss to everyone around me. Her's isn't as bad as mine… mine isn't as bad as hers etc etc. Sadly my answers are more toward the first statement nowadays. This was just recent though, mainly the last couple years. Before that, even though I was losing so much hair and suffering inside I was still able to fake it to the world. But I didn't enjoy what I had along the way for that day, how could I when it continually fell out?
I look back and I wish I hadn't missed out on so much because of my hair loss. The few people I had told about it along the way were always surprised to hear I even had hair loss. They didn't know me before and know the thick thick hair I once had. My hair is so much thinner now, but I try and not let it get in my way anymore. After all, I've missed out on so much already. I'll be 30 next year and realize I missed out on my entire 20's. So why am I writing this? I want the women who are just losing their hair to know a couple things.
Hair loss is a journey. For some it is short and they luckily recover quickly, for others such as myself, we have to realize we have a long road ahead of us. The right side of the road is paved with sadness the left with happiness and in the middle there is acceptance. I spent 8 years walking on the right, always depressed, and never realizing I could move to the other side. I would try and get toward the middle but there always a strong force pulling me back. I am happy to report that more and more I stay to the middle of the road walking on acceptance and sometimes even making it along the border of happiness. Oddly enough this epiphany happened when I was at the thinnest stage of my hair loss. I don't want other women to miss out on their lives. I know from the depths of my heart how hard and devastating hair loss is. I live it everyday. But at some point we have to appreciate what we have for that day and just do the best be can with what we have.
I still get sad about my hair loss and have my low days, I still run past mirrors to avoid looking at myself. But I get up, wash my hair, comb through (sometimes counting the hair sometimes not) scoop the pile of hair and flush it down the toilet. Pull it back, tie it and on with my day. Certainly I'm not as pretty with my thin hair, but so be it. It bothers me less and less. I know in the back of my mind I have the option of wearing hair one day and having any hair I want. Plenty of women have already taken the plunge to wear hair to make themselves feel better so they can move on with their life. Everyone of us has a breaking point… a point which we break free of our hair loss and learn to accept what we have, treat it the best we can, or wear hair. Or… we breakdown and hide in our houses avoiding all social gatherings and loathing how we look. Just think about it. Try to pick yourself up when you are feeling down, think in how many ways you are lucky and how much possibility lays before you.
Easy said than done. But we owe it to ourselves to try. Now that I'm nearing 30 and looking back, I really regret not having done more in my 20s, laughed more, lived more. I was so angry with myself for having ever taken the pill Loestrin in the first place, I blamed myself for my hair loss which is so much worse than having felt it happened without my involvement. I wondered what I did to deserve this, was it because I never appreciated what I had? Is this some kind of lesson that was being taught to me by god? It was a lesson for sure, a lesson of learning to really accept who I am. I wish I hadn't blamed myself. That made it so much harder, and god wasn't punishing me. I wrote a poem in January 2006 about trying to move forward and push ahead. And I have made such great strides since then. Here is the poem.
Hair loss is a part of my life. I continually hope things can improve, thats part of what keeps me going. I never thought I could have been as strong as I've gotten today in dealing with my hair loss and I know that I'll still wander back over to the right side of the road from time to time and be sad and morn the loss of my hair, but nowadays I realize that I should enjoy what I have today because I never know what tomorrow will bring. I still have a long road ahead, maybe my hair loss will improve, maybe it won't. One thing is for sure I don't want to give up on trying and give up on living my life because of the amount hairs attached to my head.
I want to give an update to everyone about my hair loss, I wrote a post on Oct 31 about how my hair loss has slowed down. I'm happy to report that the slow down has continued. And… I have a bunch of little hairs growing in which I haven't seen happen for a long time. The 2 year shed has slowed down. Is it permanent, at least for awhile? I don't know, I sure hope so. I also notice that the hair I am shedding is the long full mature ones in contrast to a lot of little fine ones. I don't get as upset when I lose the long ones because those hairs had a long anagen phase. I hate seeing the small ones because I realize that those hairs are not having a very long hair life and are falling out prematurely.
So that is my hair loss update and my own self realization and reflection.