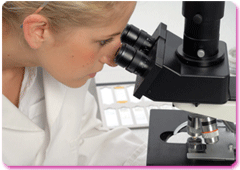 Well, in my situation, my family doctor first ordered blood work to look for an underying hair loss cause and found nothing. So she referred me to a dermatologist and on my own I sought out an endocrinologist because I have other symptoms. An endocrinologist is now looking into a possible underactive adrenal gland now because my cortisol level was borderline low. At the same time, my dermatologist did a biopsy of my scalp and found telogen effluvium AND androgenetic alopecia. SHOCK! No women in my family have this problem. So, I am wondering if you've heard of any possibility that this could be a false -positive for the androgenetic alopecia. Can anything else mimic alopecia? There's no way to tell how much of my hair loss is due to TE or how much is due to AA, but as a result I have been advised to start using Rogaine for Women. I was told Men's Rogaine is too strong while not helping any more than the women's Rogaine. I also am going to use Nizoral 1%(doctor suggested) for dandruff that I already have and that may get worse with Rogaine. I just pray the Rogaine works. I don't want to waste time and hair.
*****************
Hi, welcome to the site! I'm not a doctor and I don't have a lot of first hand experience with scalp biopsies so I'm hoping that perhaps Andrea or another women who has actually had this test performed, can help in providing greater insight. I'm also sending your question over to The American Hair Loss Association so that it can be answered by an actual physician because I want to make sure you get the right information. I wish I could answer your question about whether or not scalp biopsies can return results that are false positives for androgenetic alopecia. Logically I think that it is always possible in any test. I am curious to know if any other women have received the same results as you, being diagnosed with both telogen effluvium and androgenetic alopecia. If I was concerned about the resulting diagnosis I probably would consider having the test be redone by a different physician. Doctors are people too and they do make mistakes.
When I was first diagnosed with androgenetic alopecia back when I as 21/22 years of age I was told to take the Mens Rogaine and that it was perfectly safe and would be more effective. I know that a lot of doctors do tell their female patients to go ahead with the stronger dose as well, but you have to do what you feel comfortable with. You can always go for the higher strength Men's Rogaine at a later time should you choose to do so. Also, a few women on this blog have been saying that the Rogaine Foam is easier to use and eliminates some of the problems that the regular Rogaine can sometimes cause, such as greasiness and itchiness, since it doesn't have the propylene glycol. Although currently the Rogaine Foam is only available in the 5% minoxidil Men's version. You can read the comment Gretchen wrote about it here.
I used to use Nizoral myself because I read somewhere that the active ingredient Ketoconazole actually had some mild anti-androgen properties that would help in hair loss. Not sure that those claims where ever substantiated, but if there is any truth to it that'll be a bonus for you since you are using it anyways to treat your dandruff.
I know the horror and shock of being told you have androgenetic alopecia, I think we all hope that it is just a temporary telogen effluvium, and for some women it is. You've definitely taken all the right steps in helping yourself to determine your cause of hair loss. But perhaps to ease your mind you should consider consulting with one more physician so that they confirm your previous diagnosis. As I think about it more and more, one thing that sort of struck me as odd was that your doctor did tell you that the Men's Rogaine was no more effective than the Women's Rogaine. From everything I've ever read and been told by the doctors I saw, the 5 % minoxidil formulation (Men's) is definitely more effective than the 2% minoxidil (Womens). In my opinion that was a little bit of misinformation provided to you by your doctor. If you do decide to go see someone else, I would go in as a blank slate as through you had never been to any other physician for your hair loss. That way you can see what they come up with on their own without having already heard about what you were diagnosed with from a previous physician.
I'll let you know when I receive a answer back from The American Hair Loss Association and I'll be sure to post here for you.
~Y