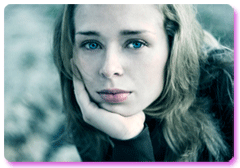 Stacey had posted this story as comment on this post, but I felt it should be a post of it's own so I'm reposting her story here:
Hi, I found this web site today. I came in tears when I read this. I have finally found people who are going through the same similar problems as I am in my life right now. I am a beginner on this Hair Loss Adventure. Let me tell you my Story and maybe since you all been through more doctor experience then I have. You might be able to give me some Advise and Tips. At least, I hope you will be willing to help. Ok, Here it goes. 🙂
I was diagnosed with PCOS in Nov.of 2005, As well with border line Diabetes. ( Polycystic Ovary Syndrome) I was 23 years old. I am now 25. Doctors don't know much about PCOS. They are still doing research on it. I did some looking up on it. ( Let me tell you what it is for those who don't know: It's where you have tumors that grow in your ovaries and can block and prevent your eggs from going through your tubes to make you become pregnant. As well as your body produces too much androgen and Hormones and your body could produce too little Thyroid Hormone as well. Which can cause you to have many Symptoms such as ad normal periods, No periods, No pregnancy, Diabetes, Heart disease, Heart attacks, High blood pressure, Excess hair, Acne, Skin tags, Early Menopause, Cramps from your ovaries, unexplainable weight gain, trouble losing weight, and so on and so on. There's so far No Cure, Some Doctors say losing 20 to 30 pounds to get rid of the belly fat that maybe causing PCOS Or taking birth controls to help control the symptoms. (Which means slow down the process.) People can't catch this by people who have PCOS. Everybody with PCOS are different. So, You may not get all the above symptoms. Doctors told me that the only way is to control the symptoms is through birth control pills and if I wanted to try to become pregnant is to take Metformin, If I have trouble getting pregnant. At that time, My hair was starting to receive in the front and lightly shedding.
Now, I have very little bangs And my hair is thinning from my bangs all the way back on top. [click to continue…]
{ 168 comments }