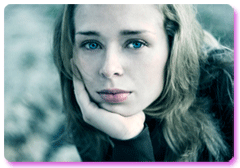 Stacey had posted this story as comment on this post, but I felt it should be a post of it's own so I'm reposting her story here:
Hi, I found this web site today. I came in tears when I read this. I have finally found people who are going through the same similar problems as I am in my life right now. I am a beginner on this Hair Loss Adventure. Let me tell you my Story and maybe since you all been through more doctor experience then I have. You might be able to give me some Advise and Tips. At least, I hope you will be willing to help. Ok, Here it goes. 🙂
I was diagnosed with PCOS in Nov.of 2005, As well with border line Diabetes. ( Polycystic Ovary Syndrome) I was 23 years old. I am now 25. Doctors don't know much about PCOS. They are still doing research on it. I did some looking up on it. ( Let me tell you what it is for those who don't know: It's where you have tumors that grow in your ovaries and can block and prevent your eggs from going through your tubes to make you become pregnant. As well as your body produces too much androgen and Hormones and your body could produce too little Thyroid Hormone as well. Which can cause you to have many Symptoms such as ad normal periods, No periods, No pregnancy, Diabetes, Heart disease, Heart attacks, High blood pressure, Excess hair, Acne, Skin tags, Early Menopause, Cramps from your ovaries, unexplainable weight gain, trouble losing weight, and so on and so on. There's so far No Cure, Some Doctors say losing 20 to 30 pounds to get rid of the belly fat that maybe causing PCOS Or taking birth controls to help control the symptoms. (Which means slow down the process.) People can't catch this by people who have PCOS. Everybody with PCOS are different. So, You may not get all the above symptoms. Doctors told me that the only way is to control the symptoms is through birth control pills and if I wanted to try to become pregnant is to take Metformin, If I have trouble getting pregnant. At that time, My hair was starting to receive in the front and lightly shedding.
Now, I have very little bangs And my hair is thinning from my bangs all the way back on top. It's more noticeable up front where my bangs and part starts. I part my hair to the left to try to hide it but it doesn't really work. You can see it in the light. And my part looks wider then it should be. My hair sheds lightly during the day now, and sheds a lot in the shower and when I am combing it. ( like 10 to 30 hairs each showering and combing).
My first attempt: I tried going to a Hair Dresser to ask them what they would recommend? And what would be causing the shedding. Instead of just helping. They embarrassed me in front of everyone in the salon and told me if I don't start fixing my hair better and using a Hair Loss Product that I was going to go bald by the time I hit 30, And that I would be more bald then she will be 20 years from now. I bought the Nioxin shampoo and conditioner that she recommend. It made my hair shed more the first week I used it. In time, I saw my hair strands seem strong and thicker. But it didn't hide my thinning spots. So, I stopped using it. My hair weaken and fell out some.
So, I decided to go see the Gyno and ask them. She told me it could be from my PCOS. I asked her if there was any vitamins or anything she can treat me for it. She laughed and said No. Just over the counter Vitamins and Rogain. She said that the Birth Control should be helping it to Not fall out as much. But it still falls out. That's what the problem is, I want it to stop shedding like crazy when I wash my hair, And comb it. So, I bought complex B Vitamins. I used it for 9 months. Didn't see any changes. The pharmacy told me that's Good Vitamins for hair.
Then my second attempt: I went to see my Doctor. He said that the hair loss has nothing to do with lack of Vitamins And Nioxin just thickens the hair strands to help hide some of the problem not fix it. That I need to see a Dermatologist. And then we will go from their about what they would have to say. My Doctor told me that there is still hope for me and one or two ways out of 6 ways that will work for me.
My third attempt: I have an appointment with the Dermatologist in DEC. of 2007. I am scared, on what the results are going to be. I want them to say it's just some imbalance of lack of nutrient Or something easy and can be Curable. But, I am afraid that they aren't going to say that. Cause my Father lost all the top of his hair by the time he hit 28. My Mother has thin hair, But you can't see her scalp. My Grandmother that died before I was born on my Mother's side was balding on the top of her head. My Sister is 10 years older then me and She has thin hair but again, You can't see her scalp. So, I guess. I will have to wait and see what the Dermatologist will have to say. Wish me Good Luck! 🙂
I just want this problem to go away! I can't be myself around people. It feels like I try to block everyone out by hiding in the other room, staying by the older people instead of people my age, not going outside as much, don't go out to dinner or go in places with a lot of people as much. When I go out the pretty people and people my age stare. Some make a light giggle like it's funny and their better, some make bald jokes that seem like their not referring to you but you feel like they are, It's hard to get a Job, It makes the people who are close to you to not what to look you in your eyes cause they don't want to hurt you by looking. I haven't been to a Hair dresser for two years cause of my experience that I have had and Cause of my thinning hair. I don't like swimming, walking in the rain or to be caught in the rain, I am pushing away from my boyfriend of 6 years. ( I am not trying to). I don't feel uncomfortable about my self when I am around him cause of my hair. I don't like being close with him by kissing and being sexual with him. He thinks its him. But I tell him it's Not. I don't like looking in the mirror a lot cause it just makes me depressed. I shower sometimes with the light off, I don't like my boyfriend around when I take a shower, when my hair is wet, Or combing it. It's like when I am combing my hair, And my boyfriend comes in the bathroom my body jumps like I am a child stealing a cookie from the cookie jar. Cause, I feel ashamed the way it looks. It makes me so stressed over this. I don't even want to get married because of this. I want to but it just wouldn't be a pretty wedding with a Beautiful Bride! I want my hair to grow back thick, So I can feel like a WOMAN again!
I will take any Suggestions,Tips,Or Advise I can get. So, Give me your thoughts. Nice ones that is.
Please don't mind any mistyped words.
Thanks. For letting me to express my Problems and Feelings like this! 🙂
*****************************
Dear Stacey,
Thanks for sharing your story, a lot of what you wrote is so similar to the things I do and feel. Showering with the lights off… jumping like a child getting caught stealing a cookie from the cookie jar when you are caught by your boyfriend catches you with wet hair. I know that feeling intimately.
I think the first thing you should consider is to find a doctor who is knowledgeable in treating PCOS. I'm not a doctor, but that seems like it would be the most logical thing responsible for your loss of hair and it is important that you find a doctor that can treat it properly. There is a lot of good information of PCOS of Dr. Geoffrey Redmond's site. Here is the link There is also quite a bit of information about PCOS on wikipedia. Here is the link
This is a question from that page I posted above, Dr. Redmond writes:
Does anything really help with hirsutism or alopecia?
Sadly, many women with PCOS are told nothing can be done. Generally this sort of advice is from physicians who do not take these problems seriously or do not know how to treat them. Do not let yourself succumb to pessimism about PCOS! Proper treatment usually can reduce facial and body hair and help scalp hair. Shedding in androgenic alopecia can be slowed toward normal and many women get regrowth. Hair may not be restored to the fullest it ever was but often there is enough improvement to reduce the terrible worry that goes with alopecia. Of course, as with any medical treatment, results vary. Unfortunately, if left alone, alopecia and hirsutism often get worse over time. For this reason, if you are distressed by them, its best to seek evaluation and treatment rather than waiting to see if they will go away. —–
Working with another doctor on treating your PCOS could help your hair loss. I'm appalled that your gynecologist actually laughed when you asked if there was anything to treat it. What is wrong with doctors? How can they not understand how devastating this is? It's so frustrating. In my opinion Nioxin is a waste of time, I of course used it myself years ago. It does nothing to regrow hair and is at best a mediocre thickening shampoo. It sounds like each doctor visit you get a little piece of the puzzle, but I think you should explore the possibility that the PCOS could be the trigger for you hair loss. It is highly unlikely that the cause of your hair loss will be the lack of a nutrient, but that doesn't mean there isn't hope. Dr. Redmond believes that with proper treatment women with PCOS may see a reduction is shedding, regrowth and overall improvement of hair, and that is key –to be able to get the hair loss under control. That is good news and a ray of hope right there.
When is your appointment with your dermatologist? How long have you been losing your hair? I know this probably will be of little comfort, but losing 10-30 hairs after combing your hair after a shower is not bad at all. Of course every hair counts when you are losing your hair, but I've run the gamut of shedding and can say that nowdays if I lose 40-50 hairs after a shower I consider it a good day. I've lost 500+ hairs/day not too long ago. Today I lost approximately 65 and I still consider that good for myself. Of course it is all relative to what you are used to. "They" who every they are, say it is normal to lose 50-100 hairs a day. I know that doesn't mean much and is hardly comforting because every hair shed when you are losing your hair counts sooo much.
I know how hard this is on you, I live it everyday and I'm so sorry for all your sufferings. It is such an awful and unexpected thing to happen, especially when you are still in your 20's and people can be so unnecessarily cruel. So that you know you are among women who understand I'll share a few things with you… I shower in the dark at times, and choose my seat at a restaurant based on overhead lighting and when possible I even select restaurants based on how dark they are, you know the kind you need a flash light to see the menu 🙂 I have my poor fiance "trained" for lack of a better word, to not come into the bathroom area when my hair is wet and to stay away from the hair region on the rare occasion my hair is down. He hugs me low, sometimes he hugs my leg, it makes me smile because he understand me. He understands it is a 911 situation when I cannot find a hair tie because for the most part I don't feel comfortable leaving the house with my hair down and always pull it back into a ponytail. So we crawl around the floor together looking for one. Has is affected our intimate relationship? Of course it has, how can it not. I certainly don't feel sexy when I see my hair all over the place and seeing it fall on the kitchen counters while I prepare something. A lot of couples shower together, umm definitely not going to happen (not even in the dark) I'm too busy paying attention to how thin my hair feels and counting the ones that fall and stick to my body. I wish it wasn't that way, I wish I was more free. But I've just learned to accept this is the way it is, hair loss causes us to have to alter our lives, no doubt about it. I'm fortunate my fiance is so accepting. You touched on something very close to me which is getting married. I've been engaged for years but have avoided the big day because of my hair loss. I feel awful about that and feel that I'm cheating myself and my fiance. But I don't wanting to be a balding bride, I just cannot picture that. I want to feel good about myself on my wedding day.. feel beautiful. Somehow I don't think a ponytail could work with a wedding gown. I've seen both of my brothers get engaged after me and both have been married for quite some time. I'm writing you these things about myself that I've already written several times over on this blog, not because I want to talk about me, but I want you to know you are not alone. All those things you think and feel, I feel them too.
There is no quick answer or cure for hair loss and that is a hard truth to cope with. For some women it is temporary and they end up growing their hair back and their hair loss just becomes a thing of the past. For others it is a lifelong journey. I say "journey" although my first inclination was to write "struggle," but really we get to decide how how we want to deal with our hair loss emotionally and the attitude we maintain about it. It took me a long time to realize that and I'm still trying to hit that message home that "I am not my hair"
I wish I had more answers for you. Thank you for being so open and honest with your feelings and for sharing your story.
~Y