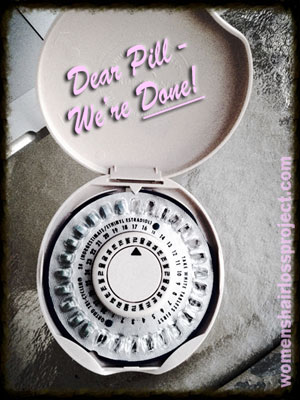 I'm sitting awake in my hotel room in Florida. My mind flooded with thoughts and my fiancé snoring soundly beside me. I had no chance of sleep I tell ya… no chance.
As usual, Florida time means PRP time. I did have my 8th PRP therapy treatment with Dr. Joseph Greco yesterday afternoon. At first glance all seems the same, snoring fiancé, PRP, Florida, hangover…. but it's not. About a month or so ago I made a very hard personal decision for myself, and  just to bring you up to emotional speed on this one, just starting to type the word "decision" started the tears rolling down face, because it's a decision wrought with so many emotions and so much pain.
My hair loss started in 1999 (I was 21 years old) after the cessation of the pill Loestrin FE, dumb luck struck and that one act caused the following years of misery, sadness and self loathing as I tried to cope with losing my hair. I was so incredibly alone when this happened, I was desperate, beyond desperate and I was willing to try and do anything I could to just get the shedding to stop and hopefully get my hair to grow back, so I made a choice I have regretted ever since. At the suggestion of a physician I got back on the birth control pill. While the pill can be the cause of hair loss, doctors also use it to try and stabilize the hormones to treat it. I didn't want to, I was so scared, but I did. Many times I've wished I was stronger and just said no. No to the doctor and no to myself. I knew what the pill did to me the first time, why get back on something I would forever be a slave to? Good question. Answer: Desperation and lack of foresight.
Getting back on the pill essentially meant never being able to get off it. The amount of shedding that occurred when I got off the pill the first time was INSANE, I'm talking about waking up to fist fulls of hair on my pillow. I had a ton of hair back then and while no one wants to loose their hair, looking back I had hair to spare. I have none to spare today I can assure you. Knowing this, I started to feel very trapped on the pill, how could I ever get off again? I was stuck on a medication I had so much animosity towards and worse my hair continued to decline so I had no way of knowing if it ever helped in the first place, and since we all know we just love to poke ourselves in the eye with our torture sticks, I'd constantly remind myself that I never really allowed my body the chance to heal on its own, to stabilize it's own hormones without the use of any medication. Maybe in a few years time all would have resumed to normal, or maybe not, but I'll never know. [click to continue…]
{ 75 comments }