Guest Blog By: Lauren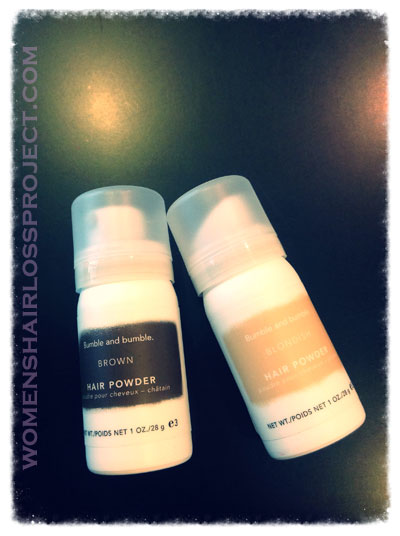 It took me a long time to realize that my hair wasn't just thin, but it was thinning–almost six years until I made the connection. Unlike many women with hair loss, I don't shed; my hair just becomes so miniaturized that it eventually doesn't return. It's been a slow and agonizing journey, but it's allowed me to try out a bunch of different hair products in an attempt to disguise my loss. I've posted about my current obsession, Bumble & Bumble Hair Powder, on my hair loss blog, and several women have wondered exactly what my method is with this product to get that great "after" shot (since my "before" shot is, well, not-so-wonderful). So, here's my method. Maybe it will work for you, too. Here's me, prior to application.
This product is basically hair spray paint–it certainly doesn't sound glamorous, but it works. What the Hair Powder does is conceal any area on your scalp that's sparse, as well as coat your hair near the roots so that it looks thicker. It can be tricky to figure out how much to spray the first few times, because you basically need to master a "half-spritz" so you don't wind up with product overload. Most sins can be forgiven if you do what I do and take a small bit of hair right up against your part line and basically make a new part with it. This hair will shield your actual part from the product and lay OVER your final result so that it looks natural.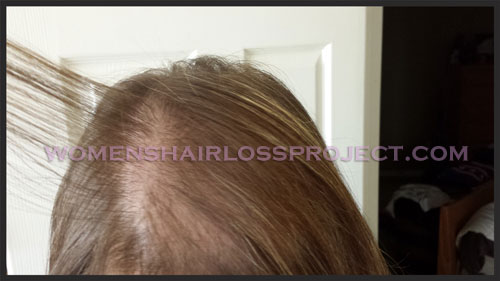 Spray the Bumble and Bumble Hair Powder in short spritzes down your "new" part line (or wherever you want to cover); I usually hold it about six inches away from where I am spraying. It's kind of hard to tell in this pic since the product sprays diffusely and my hair loss is obviously just as diffuse. It might look a little scary and obvious, but that's what the hair you've saved to use as a cover is for. I've sprayed right over my part and onto both that little section of hair that I've saved (which is shielding my actual part), and the hair right on the other side of the part. I do use my other hand to block my forehead, but I rarely get any of the product there.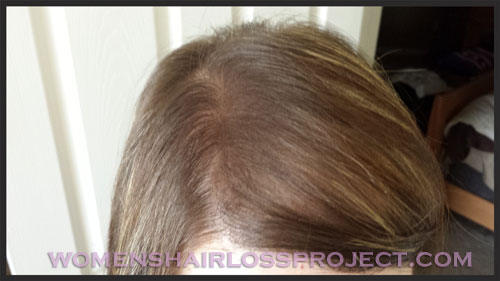 After the initial part line is sprayed, I take diagonal sections across the front of my crown. I typically need two more sections done before most of my concealing job is complete.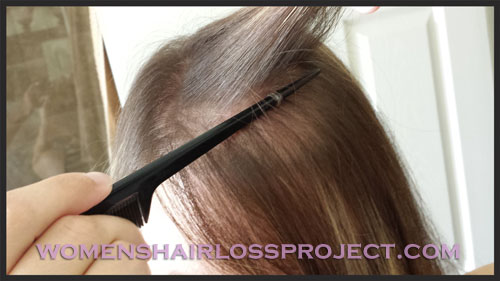 You can see in this photo where I've sprayed the product on my first diagonal spray. Again, no worries if it looks obvious at this point.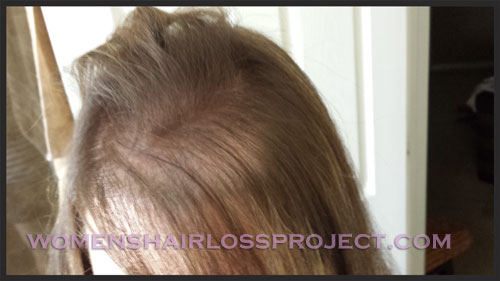 And now, for my dreaded bang area. I used to have these awesome (read: huge) bangs in high school, but now the majority of my loss is right at where bangs would be. Even though my hair loss is most evident here, I actually don't need a lot of product in this area since I cover it up with a bunch of my hair by doing a deep side part.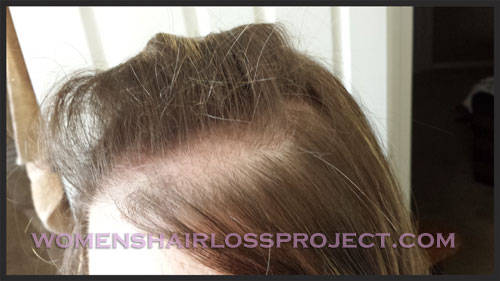 And, phew, here's the final shot after the concealers and after a bit of gentle teasing. Not too bad, right? Once I flip all my hair back to where it should be–including the hair that was protecting my part–the spray is virtually undetectable. In all my years wearing this, no one has ever noticed that I have it on, not even my hair stylist (well, until she had to wash it out!). None of my friends or my parents know; my husband doesn't even "get it" because it doesn't look like anything but my own hair.
This product has literally saved my sanity. I think when women realize they are losing their hair, they panic (I know I did). I've been to countless doctor's appointments with numerous specialists and I still don't have any real answers as to why I am losing my hair. Although I'm not losing it as fast as other woman are, I'm watching myself sprout less and less hair every few months. What this $35 bottle of Bumble and Bumble Hair Powder has given me is some time. I've really taken my time to figure out what my next step is–is it taking more supplements? Trying treatments? Buying helper hair? It's lifted a huge weight off my shoulders that I need to have a solution NOW and allowed me to take my time with my research.
No matter if you've just realized you are losing hair or if you've been losing for several years, there could be an ideal concealer out there that can help. For me, I go the spray route, however many women start off with hair fibers like Caboki or Toppik. With these, you just sprinkle some of the product onto the area you want to conceal, pat down, and set with a bit of hairspray. Both are great products; Caboki even offers a free sample on their site. For a few dollars shipping, you could be successfully concealing your loss in a few days time.
I'm not sure what my next step is…a topper, maybe? I know a custom piece can take several weeks or months to get in; until then, I know my trusty concealer will be by my side, more than willing to bring a little bit of confidence to my day.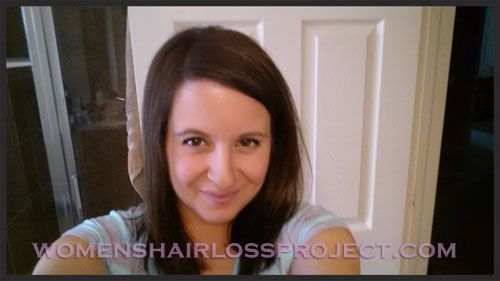 ——————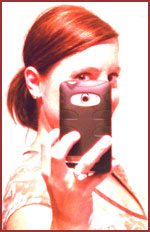 About the Author: Lauren is the author of The Corner of Hope and Mane, in which she chronicles her life with PCOS. Her favorite subject to cover? You guessed it–her hair loss. You can also find her on the WHLP Network, Twitter & Pinterest.