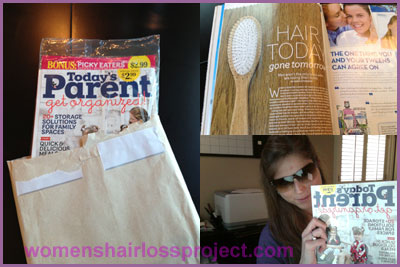 Okay so I should start this off with an apology for not writing this post sooner, the days slipped away and I looked at the calendar and said "Leaping Lizards!" I never wrote the post about the women's hair loss article that appeared in this month's issue of the Canadian magazine, "Today's Parent." If you follow me on Twitter, Facebook or YouTube then this is old news for you because I did post a video about it on August 29th to those social media outlets, but I just never got around to writing the actual post for it.  My wig must be squeezing my brain too tight because I just totally vegged on it, blame Anya.
Onwards…
As we are all know women's hair loss is such a closeted issue that whenever there is some media attention bringing more awareness towards it I leap up and down like a giddy little girl… I also do the same little chair leap when cake or wine appears before me, eagerly clapping my hands together 🙂
This month Today's Parent published an article written by a really awesome writer, Marci O'Connor, titled "Hair Today, Gone Tomorrow." In the article Marci shares her own story dealing with hair loss and writes about the causes, treatments, and available options that women have today, like wearing wigs. It's rare that I read a hair loss article, "done right" and Miss Fabulous O'Connor, definitely got it right!
Oh oh oh… AND… she included a quote from yours truly! and… they even published it in big bold letters! and… they did all while allowing me to keep my anonymity as "Y" from The Women's Hair Loss Project.
I'm including the video below that I previously made about the article, and just want to say a huge thank you again to Marci O'Connor (beingmarci.com / @beingmarci ) and Today's Parent Magazine for helping to raise awareness for women's hair loss and for including The WHLP!