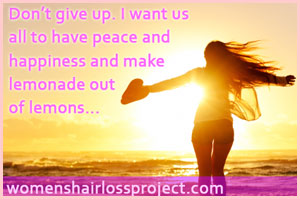 Lina's Update: 
Hello to my wonderful sisters. I thought I would update you on my hair wearing process. Today marks exactly 5 weeks since I first shaved my head and have worn my wig "full-time". The few posts that I have made I noticed a lot of struggles out there and I wanted to let you know that I have not abandoned you, on the contrary, you are all on my mind.
So, quick recap: I shaved my head because after 25 years of battling hair loss, I had a "melt down" this summer (hair loss plus a lot of life stuff), I was 3 months after major surgery and boom – a bout of TE set in – well, no hair to lose any more and out came the clippers (I was drinking wine at the time, hmmm). Well didn't cry when I did it and haven't yet shed a "hair tear". Well, that night I was brave, next morning I looked in the mirror and went, hmm – is that what I really look like 🙂
Well, no going back right? I had to wear my "just in case" wig. Maybe God knew I would chicken out and get frustrated and not wear the wig after a day or two and that's why he gave me the strength to shave my head – this way I had to commit to wearing hair. I will tell you the honest truth in my experience – I was frustrated with the wig, it takes getting used to: used to feeling like you have hair, seeing you with hair, accepting the fact you wear hair (that's the toughest). So, first few days, wanted to rip it off, couldn't look in the mirror because it didn't look like me. How funny is that? I haven't looked like me in a number of years – hair or expression. I avoided mirrors for the first few days. I finally washed the wig – much better, positioned her properly on my head (made a big difference), got the wigrip that Y suggested (life saver).
So, what else… well, showers are wonderful now, no longer picking hair out of all my orphesus' and backs of my legs, no more hair all over my pillow, clothes, in my cats water dish, silver ware drawer, dinner plate… no more ridiculous night time ritual, with the waiting for the hair to dry, pick up all the hairs in the dark, comb over, pin and spray and then the thinking about hair loss all day and night! I actually am so much less stressed, it is immeasurable!
I got brave enough to show Y my hair photos and then my shaved head photos – she can tell you, I look like I have more hair with it shaved?! So, was it easy? Nope. I didn't look like me with the wig, or without. However, if I don't look in the mirror, I still feel the same Lina that I've always been.
Fast forward to week 5. I am actually getting used to seeing the new Lina – with wig and without, my smile is back. I don't think about hair all day, I look in the mirror and think dam I feel good. I've gotten so many compliments. You know, when I decided to wear the wig, even though I wasn't used to it, I walked around with my head high and "owned it" – I think that is key. I feel better. I feel better! I didn't give up, the crap gave up on me and now I am finally in control. I am a week away from getting a custom wig made because I now know that is my future, I am a hair wearer and so be it!
It was around a month of wearing the hair that I finally looked like me – they do say it takes 30 days to break a habit, perhaps it also takes 30 days to get used to a habit? I was at a major down time in my life when I came back to this site, and that is when Y started her hair wearing experience, which I followed and still follow religiously. I thank God that she began to wear hair and move forward, because it is because of her that I believe I was able to move forward. I have had those that I care about say that I look so much healthier and happier – like a noticeable difference!
Life is hard, so much harder than hair (and we all know how brutal that is). I am glad I can focus on more living than hiding. Ups and downs, for sure, but I have way more ups these days. So, this is for all of you that feel defeated or stuck. If I can do it, anyone can do it, believe me. Be strong, that is your biggest key. We've all had crappy experiences, whether doctors, specialists, wig shops, lotions, potions, promises… Don't give up. I want us all to have peace and happiness and make lemonade out of lemons.
I will warn you all though: wearing hair has made me fat too 😉 I haven't been out so much as I have been in the last month (no more hiding or excuses – I always wanted to say "yes" but was embarrassed about how I look – no more!
Now, on to the next battle… dieting 😮
Hugs and strength to you all.
Lina xxoo