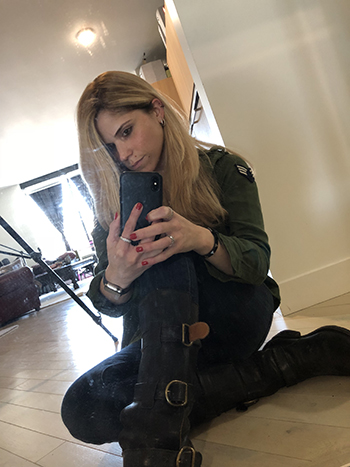 Reflected. Reflect. Reflections.
Evolved. Evolve. Evolving.
Words. Just words.
My own hair loss situation, has evolved greatly over the years. Mostly, in how I dealt with it.
Adapted. Accepted. From cutting off most of my hair over time, to finding a short style to work to provide optimal hair wearing results for myself ( since I pull out pieces of my front hair line), to also accepting the progressive decline, but ultimately learning to live with my situation to where it no longer controlled me. That included being honest about my hair loss, and wig wearing with those around me.
I am 40, and started losing my hair at 21. My entire 20's and some of my 30's were lost to tears of hopelessness. It's the whole reason I started the Women's Hair Loss Project in 2007. It was the bottom of my bottom and there just wasn't anyone out there online at the time for women, speaking about women's hair loss, or at least no one I found that spoke to me and my situation, or at least could relate to (and definitely not in 1999 at the beginning of my hair loss) and I just felt alone, utterly alone.
Not sure if 40 was the "hit the wall" number for my own hair, but it has been rough year, and it's currently on the rapid decline within the hair line and temporal region. It will be the second time this year, my own hair is taking such a hit that it is declining to the point that it doesn't seem at the moment anyways, that too much time is left on my side before having to pivot and adjust again… for my hair loss.
What does that mean? It means I have to potentially open another door of this journey for myself. I do not want to watch the decline of myself in the mirror, so if it sustains the loss/rate it is now, I will have to shave my head, which oddly I'm not really that scared of doing… or don't feel that way anyways at this time. But, as someone whose worn wigs while using minimal amounts of my frontal hairline in blending my pieces, this creates a WHOLE new situation. I've played around with bangs, which never look awesome for my shape of face (it's moments like this I wish I looked like the beautiful queen of bangs, Zooey Deschanel, alas I don't, I usually look like I'm 12 years old in bangs ). I will keep trying of course, and also I may have to explore the one type of wig I haven't really utilized which is the lace-front wig, which doesn't require you to use any of your hair line.
So I try to keep the thoughts simple for myself during this time.
I know I can shave my head, (or I think so anyways) without too much emotional attachment to it…that has been years in the making. I know I can wear wigs (I have been doing so since 2012) and I'm okay with that part too. Now it's bridging the gap between the two, which on paper seems like not a big leap, but I've adjusted to my hair loss, hair wearing in one way, and now my way of being (or living and dealing with my hair loss) has to shift again.
Reflecting.
Evolving.
XOXO