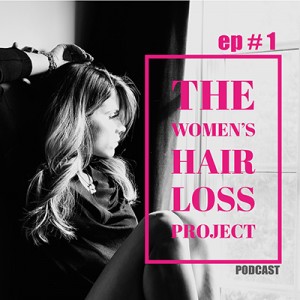 For quite sometime I've wanted to do a podcast for The Women's Hair Loss Project, to hear (not just read) the stories of other women and to provide another medium for women to connect. Life happens, and then nothing happens [face palm] it seems, but it's here… finally, and I'm super excited to share the first episode with you.
I met my first guest, Ashley on Instagram not too long ago, and side note, if you didn't know A ) I'm not dead and B ) I do have an Instagram account (@whlpnetwork), both seem to be a mystery to some who followed me years and ago and then I fell off them map. See above regarding "Life Happens," but I digress.
I had answered a question sent to me by Ashley via posting a video response on Instagram and to my surprise she replied back via a YouTube video response. It was definitely a first for me, as many women have written over the years, but I can't ever recall ever receiving a personal YouTube video response. As she went on to share more of her own story in her video, I felt an immediate connection to her dealing with hair loss at such a young age – starting at 23 and she's now 28.
While my journey has evolved over the years from 21 to almost 42 this year,  I felt deeply connected to those particular years of my life. Many of which I spent very alone, depressed and isolated.  There were so many unanswered questions, endless doctor visits, and the confusion and despair of "what now," when all roads seem exhausted, however, what never gets exhausted is learning from each other, and sharing our own stories/experiences and journeys. The value is that is always, priceless.
I hope you my first episode of The Women's Hair Loss Project podcast, and I look forward to the opportunity to speak to many other women and probably even a few men 😉
If you would like to be on the show please send me a note to: y@whlpnetwork.com
Ashley had indicated to me that she would love to hear how other women shared with their boyfriends/husbands about their hair loss and/or hair wearing, as that is an issue not only she, but others find would be a very difficult conversation to have. That seems like it would be a great topic for a future episode. For those interested, or missed it, a few years back I filmed a YouTube video with Alex Hafner, called "Women, Wigs & Hair Loss – What Do Men Think?"
Please also write me with show ideas you have, I'm new to this, and welcome your input ! You can listen on Podbean below, or via iTunes and Spotify or watch the videocast on YouTube.  xoxo ~Y
Special Thank You to Spencer Kobren (@spencerkobren) for allowing me to use his TBT Studio in Beverly Hills, to launch this podcast and for his assistance in producing it.
Podcast
Videocast