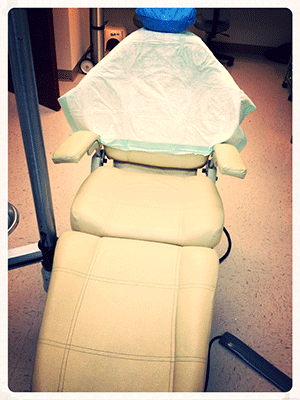 It's been almost a month since I went to Sarasota, Florida to have my 8th PRP treatment with Dr. Greco. I used my last PRP treatment to aid in reducing any potential shedding that would occur as I got of the 200mg of Aldactone that I had taken, seemingly forever, and I feel it was successful in doing what I had hoped (thank god). I really didn't notice any accelerated hair loss from getting off that pill, so I'm happier than a pig in you know what!
This most recent PRP treatment I had in July will be used to help me in much the same way to get off the birth control pill. My feelings about all that were shared in this post here.
Many women contact me with questions about this treatment, so I thought I'd bring along my camera to this visit and have Dr. Greco explain the process while he does the treatment on me. Of course upon watching the video back I realized I trampled on Dr. Greco (more than once) with my own thoughts as he was speaking, interjecting my questions or some other superfluous noun or verb here and there, but hey, I just had my head stuck with a needle a zillion times, give me a break LOL! I think I have a tendency in general to rush my thoughts out because I fear I'll forget what I wanted to say before it gets said, I'll work on that 😉
This treatment was different than my others, Dr. Greco incorporated CRP with the PRP to really give my follicles a kick in the bulb. Now you're probably thinking, "Uh, what's CRP?" Exactly, so am I! CRP apparently stands for Cytokine Rich Plasma which in simple terms is a "more purified form of PRP," and it does not contain red blood cells. I'm still confused, so I guess you might be too, ha. While I'd love to pretend I know all the ins and outs of this, I don't. I sat in a chair and had a syringe of my blood pushed into my scalp in a bunch of different places. The end. Nah, I wouldn't leave you hanging like that, not entirely anyways.  I had emailed Dr. Greco a couple weeks ago  to share my hair update with him and I got a bit more info on the PRP with CRP that I'm quite certain is making you feel a little ADD right now, or maybe that's just me.
Firstly, let me say I emailed him because I wanted to share that my hair is feeling and looking a bit better already. Like for real. The texture is a bit softer, and my hair just *looks* fuller overall. Clearly, in this short period of time this isn't because of regrowth or anything, hair doesn't grow that fast, but each existing follicle looks like it got a shot of super vitamins or something and they all just perked up a little bit. Yay for perkier hair! I've seen these results before, but I don't recall ever seeing it this fast, so hence my email update to Dr. Greco. In his reply back to me he told me "The advantage is : with CRP (gold) the growth factors are released from the platelets immediately and work faster (hence you are seeing results sooner) and with the PRP (red) we have platelets that are not activated immediately (meaning the growth factors are not released from the surface of the platelets) so those growth factors release slowly and you get a delayed response over time." So essentially doing both you get the double pow wow. Time will tell how this treatment will do in keeping the shedding at bay in the face of getting off my birth control pill, I won't feel in the clear till the 6 -8 month mark.
I should note, that unlike my other treatments my head stayed sore for weeks after this PRP, I believe this was a result of the added CRP and also a bigger needle was used. I mention it because if anyone else has this done, you might expect that could possibly happen to you as well. My next PRP date is already set for the 4th month mark from my last, and I'll set my next one for 4 months after that. I'll probably keep a strict 4 month schedule until I reach the year and half mark, and at that time I'll switch to going every 6 to 8 months for maintenance in keeping my shedding down.
The question I think I get more often than any in regards to this treatment is, "Do You Think It Works?" My answer can be found lying among the numerous plane ticket stubs I have as memories of my long flights from Los Angeles to Florida. I do this treatment because I believe it has most definitely been beneficial for me. It has not stopped my hair loss, and most everyone here knows I do choose to wear a wig full time. Perhaps had I started this treatment way early on when my hair loss was in it's infancy, I might have maintained for even longer. Who knows, but it wasn't around back then as a treatment for hair loss. My goal at this point is really just to slow the progression (and I do know it will keep progressing no matter what) and keeping the shedding at a reduced state. The fact that my hair is looking fuller , softer and a bit healthier is really a bonus for me, and something I'm very happy about! I've communicated with many women who have had this done, many have felt it has been an amazing and beneficial thing in their lives, and others found it did't help at all – and that's the way it will always be with any hair loss treatment. I think it's important to have realistic expectations with anything pertaining to our hair, treatments, wigs… all of it.
I'll keep everyone updated as I go through the following months, I'm hoping for the best, preparing for the worst, and keeping strong no matter what, knowing that regardless of what happens, I will be okay.