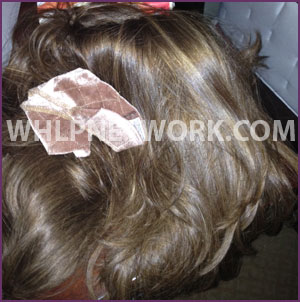 A gal from The WHLP sent me an email that asked some questions that seem to be on a lot of ladies' minds, so I'm going to answer her questions here
What Stage Is My Hair Loss? I consider my hair loss advanced, but still passable in the world. I started off with A LOT of hair, my bio hair had more density than my wig actually has so I've luckily been able to get by year after year still looking like a person with "ok" hair and then eventually maybe just looking like a gal with naturally thin hair. This past year it sort of crossed that threshold into real super sparseness that I couldn't completely conceal my hair loss in the way I had been doing in the years prior. Having said that,  I can still wear my bio hair in a ponytail and go to the grocery store and for the most part nobody would be none the wiser, except for another thinning hair gal perhaps. If I washed my hair, blow dried it, pumped it up with volumizing products and then flat ironed it, it would probably be still "acceptable" hair by many people's standards. To me, it's yucky, crappy, stringy good for nuthin' hair that I'm tired of being a prisoner to.
Why Did I Decide To Go With a Full Wig Rather Than a Topper? The clip-in topper was never an option because my hair is too thin and fragile to withstand the pressure of the clips, even though topper clips are typically very small they still cause me quite a bit of discomfort, so that was out. This issue was rearing it's ugly head  yet again when I was looking at wigs, because wigs are typically kept in place with the use of clips and combs (or glue) as well. Only I found the situation to be worse with a wig because the wig is heavier than the topper adding even more pressure and discomfort. Thankfully I found the WiGrip so that saved me and my sanity.
So the question really is why did I choose a full wig over a bonded topper? I have seen enough bonded toppers in the WHLP network to know that when they are done right, they are amazing, but they also require the guts to shave the top part of your head. I personally think if you're going to bond, the best way to have it done is on a clean shaved surface, and while you can bond to the top of your hair, I think that would tug your bio hair and be way more messy and frustrating. Also the topper hair wouldn't lay as flat and naturally as it could if it was on a bald surface. If I was a braver person I would have just gone for it, but alas I'm a chicken and couldn't make that chicken leap to bonded-hair-landia. So it was either wait until I get the moxi to bond, or start looking at WIGS. I honestly never thought I could or would wear a wig, I think I had some massive negative image built up in my mind about it – like an image with a granny in a rocking chair knitting, whose crown is covered by a powered gray wig.  You know THAT kind of wig, I was about to bust out my rocking chair when I realized that good wigs are pretty earth shatteringly wonderful.
I was able (surprisingly) to emotionally accept wearing a wig, being a "wig wearer." I am now able to see all the pluses it has where before I only saw the negatives. The wigs have one negative for me, I am not able to wear them comfortably to workout in. I'm talking about a hardcore sweat to the bone type workout, not like jazzercise at the YMCA. I could definitely wear the wig for jazzercizing
This *shouldn't* technically be an issue for me since I still *can* wear a ponytail and headband and go out into the world to get my sweat on, but a funny thing happened when I started wearing my wig… I started to never want to be without it when I was outside my home, ever. I wake up brush my teeth and put on my wig, I go to bed brush my teeth and brush HER hair. It's routine. The wig makes me feel whole again, makes me realize I'm still alive… it gave me back my life. So I joke that my wig is making me fat because ever since I got it I have not gone to the gym once!  Finally, last week I woke up and broke routine, I put my hair in a ponytail and let the "girls" have the morning off. I worked out, it was fine, I survived, all is well.
Yes you can technically work out in a wig, it's just not something I'm comfortable with at this point. But bonded hair… oh sweet bonded hair, it's BONDED so that hair is going with you wherever you go no matter what. You get to "live" in your hair, sleep in it, shower in it and enjoy it every moment of the day. That's the beauty and allure of the bonded hair. I thought I would never be happy till I was a proud member of the WHLP bonding team! But I have found much peace and happiness in wigs. I like the ease of them, the versatility, and I like being able to take my hair off at night if I'm tired of it
I enjoy choosing whether I'm going to have shorter or longer hair on any given day. Eventually I will probably have different colors and then I'll make that choice as part of my getting ready for the day routine. Black blouse, dark denim, sexy sandals, and red hair… no blonde, no red… get my drift? Each day I grow leaps and bounds in my acceptance of wearing a wig, and as time progresses and I get even more comfortable, and once I've informed my whole family of my new wig life, (all of them except my parents who I told, still have not realized I'm wearing a wig) I will begin to be more bold with it.
So why did a choose a full wig? Because I'm a chicken. That's the short answer.  LOL, but I'm glad I did, it was the right step for me. I also feel that in time if I do choose to dip my toes into bonded-hair-landia that I will feel even more secure in making that leap because I will know if it doesn't turn out well for me that I can always just go back to wigs. There is a lot of comfort in that.
What Do I Do With My Bio Hair When I'm Wearing the Wig? I just leave my hair as is underneath the wig. The way I do it is, I make a ponytail (holding it in my hands) and then comb down the front part of my hair, sort of in a way like I was going to have some Zooey Deschanel bangs (only minus ALL the density) Then I tie the ponytail once I've separated the front "bangs." I tie the WiGrip around my head and then let my hair out of the ponytail. That's it. It ends up looks like a 60's type hairstyle with the headband. I then put on the wig and leave it a little distance back from where it will reside and I part my own hair, that section I pulled out earlier, and I match the part of the wig to the part I made on my own hair and bring the wig forward to lay directly on and slightly behind my hairline. You can see it more clearly in this video: https://www.womenshairlossproject.com/wigs/wheres-your-hair-wheres-the-wig/
Did I Have To Cut My Hair When  I Started Wearing a Wig? I didn't have to cut my hair because my hair was a tiny bit shorter than my wig, If it was longer than my wig, then yes I would have definitely needed to give my own hair a bit of a trim (which it needs anyways). I can probably let it grow an inch beyond the wig, but after that I'd be pushing it because my hair looks very thin compared to the wig hair so I think it would stand out.
How Long Is My Bio Hair? My bio hair is just about the same length as my medium Lifestyle wig, I'll embed a video from a different post showing this.
If I missed any questions, please feel free to ask and I'll add them to a round 2 of Q & A for a future post.
Happy Wednesday!
XOXO