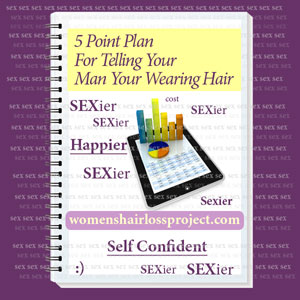 This wonderfully clever and cute post was written by a WHLP network member, Franny. She's given me permission to repost it here to share it with all of you gals!
This is in response to a recent blog which referred to telling her husband about getting her hair system which got me thinking….always dangerous.
My response was too long to post in the blog's comments section so here it goes:
Don't forget that with the majority of men you need to spell things out in simple, quick , unambiguous chunks that require no effort on their part to understand and little or no discussion.
I've thought about a handy 5 point plan for other women wanting to have a similar conversation with their husbands / partners….
Once you have decided on the hair system you want the conversation could probably go like this and take around 30 seconds to around 5 minutes (isn't that usually the case with men??? LOL)
1: I need to get hair
2: This is the kind of hair I am getting and this is how it works (eg wig / topper, maintenance, etc – keep details to a minimum)
3: Getting hair will make me feel:
a. better about myself
b. happier & more self confident
 c. *sexier*
4: Cost (this is only an issue if he will be paying for it or the cost will be out of your joint agreed household budget / savings that you contribute to. If you are paying for it – it's your money and you can spend it however you darn well please. )
5: Any questions?
If he has any question pertaining to cost, remind him of point 3c and infer that he could be 'getting some' if Points 1, 3a & 3b are achieved.
If he has questions about the system you'll be getting – hit him with the technicals – use numbers and car sounding words like '110% density high performance mono top', 'oil based solvent' and ' high tensile clips' – avoid telling him things that may make his eyes glaze over like 'how easy it is to style' , 'Cute cut' and 'natural parting'.
Be positive and assertive, keep referring to point 3c as required and you're sorted! Hair system on its way stress free!
OK – a bit tongue in cheek…but probably not by much….
To be fair – the men in your life that love you JUST WANT YOU TO BE HAPPY!

Hair loss is something that they have no control over, and is something that they are not able to fix for you. This makes them anxious and probably why they may seem disinterested, ignore it & dont want to talk about it much. They also love you with or without hair so sometimes just dont get how much it effects you.
You will be handing them a ready-made solution on how you can get back to being the actual woman (not the hair) that they fell in love with again with little or no effort on their part, and within a short amount of time they will probably start thinking that they came up with the solution themselves.
If this is the case – just smile sweetly and nod.
And put 3c to good use.
Hugs to you all.
Fx