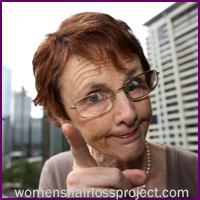 A blog from the network, written by Bonnie.
Well, this was intended be a simple little blog about asking you all to sign a petition asking Bayer, the manufacturer of Mirena, to fully disclose the side effects of Mirena to potential patients.  But in checking back to the Mirena website to make sure I accurately used their wording concerning hair loss, I have now found that instead of just burying it as an "uncommon side effect, affecting less than 5% of users," they have now removed it all together.  I am so outraged that I am literally shaking!  I am almost in tears.  When I initially figured out that the Mirena was what was causing my hair loss, I found on their website that it listed "hair loss" as an uncommon side effect (though I do not feel that something affecting up to 1 in 20 users should be considered "uncommon").  In January, they updated their site to read "changes in normal hair growth cycles."  And now, the only place that you can find anything listed on their site about hair loss is under the Physician Information tab.  It lists Alopecia as an uncommon side effect.  "Alopecia is NOT listed in the Patient Information or Safety Information section at all.  It simply says, "for a complete list of side effects, please contact your health care provider."  The pamphlet I was given did not list hair loss, alopecia or changes in normal hair growth cycles.  How in the world are women supposed to get accurate information?
I had a Mirena for 11 months beginning in 11/07.  Without even going into the horror story of how it was inserted, I basically bled for almost 11 months straight, and was told this was "normal" and that it would eventually stop.  I noticed significant hair loss in August 2008 and was diagnosed with a very low ferritin level (I guess that's what happens when you bleed literally all of the time!).  I did mention the Mirena to my GP but she did not think it was a factor.  I started taking iron supplements, as well as many other vitamins, but my hair loss just continued and I became very depressed.  My hair loss got worse and worse and I just could not figure out what was causing it.  I was literally always the healthiest person I knew. I saw several doctors during this time, including a dermatologist, but the Mirena was always discounted as not being a factor and so I honestly did not pay it much mind either.  During the first week of October 2008, I finally googled Mirena and hair loss, and BAM!  Oh my god, there are SOOOOOO many of us out there with so many horrible side effects from this little thing including tons of women with severe hair loss.  I could not believeit!  I'm actually surprised that there are not more victims of Mirena on this site.  I also saw all these other symptoms listed that I had been suffering from and never realizing that all of these things were being caused by the Mirena – low sex drive, swollen abdomen, severe cramping, literally blinding headaches behind my left eye, weight gain, insomnia, extreme moodiness and excessive hair loss.
I was amazed!  And the more amazing part is that I could not find any doctor who could be bothered to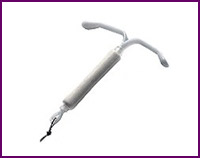 remove it!  I must have called 10 doctors' offices, begging them to give me an appt, any time of day or night, to get the thing removed.  No one would help me, but instead offered me an appt two months down the road.  I finally went to an ER and threw a semi-psychotic fit in order to get someone to listen to me.  I had the Mirena removed on 10/6/08.  And you know what?  I have not had even one of those blinding headaches since.  I lost about 5 pounds instantly and my belly stopped hurting and, finally, I stopped bleeding all the time and had a NORMAL period for the first time in almost a year.
Sadly, the hair thing takes a long time to turn around and I am still dealing with that issue.  My shedding has seriously decreased, but it is not growing back in as much as I hope it will (soon, please?).  I have recently found some Mirena hair loss success stories online and I am hoping to be one of them, but I was told by my NEW GYN that the effects of the hormone in the Mirena can stay in the body for up to six months after removal.  I have now lost more than 50% of my hair density.
The list of side effects from Mirena is large and includes everything from Ovarian cysts (in 12% of users) to dislodgement and uterine perforation.  These are now the ONLY side effects listed on the Mirena website.  I know someone else who had a Mirena, which perforated her uterus and got lost in her abdomen!
The following side effects are also associated with Mirena IU according to WebMD (similiar information used to be listed on the Mirena website and has since been removed):
Sign The Petition>> http://www.thepetitionsite.com/1/mirena-awareness
Common side effects:
Absence of Menstrual Periods Severe Abnormally Long or Heavy Periods Severe
Bleeding Not Related to Menstrual Period Severe
High Blood Sugar Severe
Infrequent Menstruation Severe
Ovarian Cysts Less Severe
Enlargement of an Ovary Less Severe
Dizzy Less Severe
Low Energy Less Severe
Visible Water Retention Less Severe
Weight Gain Less Severe
Head Pain Less Severe
Feel Like Throwing Up Less Severe
Throwing Up Less Severe
Diarrhea Less Severe
Stomach Cramps Less Severe
Nervous Less Severe
Mood Changes                          Less Severe
Infrequent side effects:
Depression Severe
Discharge of Milk in Women when Not Breastfeeding Severe
Rash Severe
Breast Tenderness Less Severe
"Change of Life" Signs Less Severe
Hair Loss Less Severe
Excessive Hairiness (Hirsutism) Less Severe
Acne Less Severe
Yellow-Brown Patches on Skin Less Severe
Chronic Trouble Sleeping Less Severe
Altered Interest in Having Sexual Intercourse Less Severe
Rare side effects:
Obstruction of a Blood Vessel by a Blood Clot Severe
Anyway, I sincerely hope that something can be done about this and that other women can be saved from the horrible, and sometimes even life-threatening effects of this terrible little device.  ALL of these potential side effects need to be disclosed to patients.
The link to the petition is below.  You do not have to be a Mirena user or a former Mirena user to sign it.  You can even sign it anonymously.  If you have the time, please consider signing this petition, which simply asks Bayer to be more up front about these potentially devastating side effects.

Sign The Petition>> http://www.thepetitionsite.com/1/mirena-awareness
Thank you for taking the time to read all of this!
-Bonnie