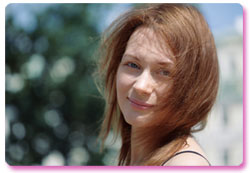 Hi Everybody –
I just want to share my story with all of the women who experienced stress related hair loss. I started noticing that I was loosing my hair when I moved to a different state to pursue a completely new career. I was so stressed with my job, my new home, my family life that I ignored that problem. Until I went home (I'm originally from Poland) and my friend asked me what's up with my hair and how come I don't have as much hair as I used to have. I realized that I did have much less hair to play with and every time I combed/ washed or styled my do I was loosing tons of it.
I noticed hair everywhere. My car seat, my coat, everywhere. I panicked when I noticed bald spots on the side of my head. I started taking vitamins for hair, using the best available shampoos and conditioners but that didn't help a bit. I was loosing more and more hair. I couldn't wear my hair down, I had to wear ponytail styled carefully so the bald spots wouldn't show. I went to a doctor (dermatologist) four times and she couldn't help me. I mean she completely ignored my problem and told me to use Rogaine!! I was furious with her, because I already did my research I knew that my hair problem was stress related. It wasn't genetic so Rogaine was a completely wrong solution. I tried couple other doctors, but they were as ignorant as the first one. All they could think of was Rogaine and maybe a hair transplant.
My hair problem lasted 3 years. Sometimes I would be loosing less sometimes more, but the fact was that I had less and less hair on my head. I went back home (Poland) and I went to a dermatologist there. She ran lots of tests on me (yes, we have universal health care, It didn't cost me anything) and suggested that I should try aminexil treatment. I did. I'm on my fourth week of the treament and it works!!! My hair stopped falling out. I loose maybe 5 (!!) hair when I wash it. Before I would loose tons, sometimes a chunk the size of the golf ball (200-300 hair probably). And I can feel new hair growing everywhere. I will spare you all the medical details of the aminexil solution, you can google it. It is not being distributed in the US but you can still get it online (it's non prescitption). Kerastesse and Vichy have it in their european product line, (vichy's product is called dercos aminexil sp94, and that's the one that worked for me).
And one more thing, I'm also taking dietary supplement that contains taurine. I'm not sure if you can get it in US because I get it from europe. But taurine was used by vets on cats to prevent shedding for the last 50 years, so I'm hoping it is working for me too 🙂 Best to all of you and good luck with your treatments. I'm sure you will find one that works for you. As I found mine 🙂
***************************
Dear Anna –
It is so good to hear that you are having success battling your hair loss and that you are noticing quite a substantial visible improvement. Your story definitely gives other women hope, and it also lets us know that sometimes hair loss can be stress related. I am not familiar with aminexil, your story is actually the first time I've heard about it. How does it medically treat hair loss? After hearing your story I am incredibly interested in hearing the science behind it. I did some searching online but didn't find a whole lot of information on any studies and things so I'd love to know what your doctor told you about the product and how the treatment works. Thank you for sharing and congratulations on your hair loss recovery success!
~Y