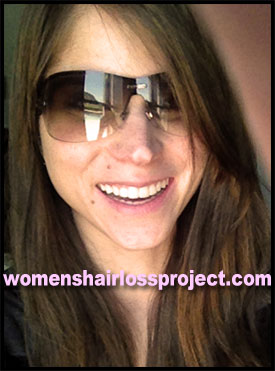 I sat down tonight, poured myself a glass of wine and remembered all the Friday nights (and Saturday, Sunday, Monday, Tuesday, Wednesday, Thursday nights as well) I spent suffering in loneliness, fear, despair and bottomless depression. Whenever I could avoid the world I would, I made excuses for not making it to various functions and sought refuge on my couch, often times eating and drinking myself in a puffy sobbing, bloated mess. I felt sorry for myself ALL the time, and I simply could not process the future. What future? My hair was leaving at seemingly warp speed at times, and how could I ever live being a balding girl. How? My heart would sink at the mere mention of my fiancé talking about being able to wear a "hair addition." What? That's fake, that's not real, that's not me, never never never, not in a million years I would profess to him and then I'd leave the room (or cry) in frustration that he couldn't really understand what I was going through. Not really anyways. I couldn't compute and process any of this, so I sat paralyzed and living in a self imposed prison, bound by the shackles of hair loss.
I look back upon this, and I am quite saddened that I let my ENTIRE 20's, and some of my 30's pass by, as I sat still in the paralyzed fear of sadness, uncertainty and self loathing. This is time I will never get back. It was for all intents and purposes, very much like a prison sentence. Mind you, much of this time  I still had plenty of hair whilst it was falling out,  I still had hair that I could go out in and no one really would be clued into my hair loss issues, but that was of very small comfort. I hated myself for causing my hair loss. Yes I believed I did it to myself, after all I was the one that took the pill (Loestrin FE), that was my choice, had I not taken it in the first place all of this suffering may never have happened, so on top of everything else I had to deal with emotionally, I added blame to the mix — you know, just to spice things up in the self torture arena.
So why am I writing about this now? Because I want all you ladies to know that I get it, I get every gut wrenching aspect of it, I lived it day in and day out and after 14 years of hair loss, I'm confident in saying I know what it feels like to sit at the bottom of the darkest hole, wrought with agony and no way out of it. I get it. I understand everything you are going through, right down to every counted strand plastered to the shower wall (more self torture).  Looking back now, as I have reached a place of acceptance and wearing hair full time, I'm finding that I'm not mad at my hair, mad at the loss, I'm just irritated with myself for allowing it to take over my life, to steal my life. That part I did allow, and that was on me. I could have viewed things differently, enjoyed the day… you know carpe diem and all that jazz. I could have slapped myself across the face at any point in time and said, "Seriously Y ? This is how you are going to go out? Give up on life for your hair? Really? When you are on your death bed and having a reflection upon your life, how will you feel then for just sitting it out in a depressed stupor for decades missing out on really living, will it make sense then?" I could have done that, but I didn't. I am forever grateful to whatever Angel shined upon me and made me change my way of thinking. That was my cure. I had to view what happened, my hair loss, wearing hair — all of it, differently. Perception adjustment.
We must be willing to change, to forgive ourselves, to move forward, and that means something different for everyone, but we have to desire and fight to take back what is rightfully ours — Our Life.
If you are thinking of giving up on today, or tomorrow – stop yourself, seriously… stop yourself. You deserve better. Please realize there is hope of peace and happiness in your life again, I know it with certainty because it has happened for me, and believe me, I know it's not easy — none of it is, but we can work on it, little at a time.I accept my reality, I've made peace with it and for that I've won the golden prize… I got my life back, most of it anyways, after all I'm still on this hair loss journey, but I now refuse to allow my life to be dictated by my hair. I don't cancel appointments and avoid people because of my hair, I do that now just because I feel like it 😉 It's now a choice.
For some women hair loss will be a passing thing, for others like myself it will be lifelong, but no matter you can choose to live for today.
Much Love To All !
XOXO