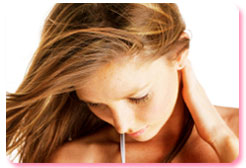 So this weekend I decided to let my hair down… literally. I usually just pull it back, but Sunday I had to go to an event that required that I look more proper, a little more put together. Also for the outfit I was wearing I thought it would look so much nicer with my hair down. So for the first time in a long time I did the "hair routine." I have avoided doing it for quite sometime because it seemed pointless. My hair is so thin and lifeless that the less time I spend working on it the better. If you haven't already read it in one of my past postings, the hair routine usually takes about 1 – 1 1/2 hours and involves the use of a thickening shampoo and conditioner, then the use of a defrizzer that is applied after I've combed through my wet hair, then a thickening agent, and then I use a giant roll brush and blowdryer to make my hair look fuller. The final thing is the use of a flat iron to smooth it out.
Part of why I hate wearing it down is because it feels like nothing is there, I can't feel the weight of my hair anymore, I haven't for quite sometime, but it's even worse now. I sucked it up anyways. You know what, most of those people I saw on Sunday didn't have any idea I was losing my hair… I was able to perform hair magic one more time. I didn't see any wandering eyes drifting upwards to stare at my thinning hair. I do look like a person with thin hair, but to them they probably thought it was just naturally thin. Even with that I still consider shaving my head because it is complete torture to lose 500+ hairs on some days. That is the type of extreme shedding that has started the last couple years, mainly the last year. I do think it is getting a little better now for whatever reason. Hair is cyclical and maybe I'm finally on the upswing. *fingers crossed*
But there is more…So after I finally made it through Sunday with the hair down, I kept it down, after all that effort I wanted to squeeze out another day of trying to feel normal. My fiance made a comment that I seemed so much more confident and social with my hair down, that I was like a different person. That makes sense, I hate wearing my hair up all the time, and I'm always feeling self conscious so I never have a chance to really be me. Monday night we out to a nice dinner and then went to a blues club to listen to music and have drinks. For a split second I sort of forgot about everything and enjoyed myself. I haven't done that in a really really long time. It felt wonderful. Those moments are few and far between and I really appreciated it. In fact I told my fiance I wanted to start doing that at least once a week, get dressed up have a nice dinner, listen to some music… be normal. Even if I have to go with my hair pulled back in a not so attractive manner, I want to live life.
What had motivated me to get on with living in spite of all my constant hair loss struggles, was Monday's episode of Oprah. The topic was "confronting death." Two stories were featured, the first was about a woman named Kris Carr who in 2003 was an aspiring actress and model. This same year, she found out that she had a rare form of cancer that was in its most serious stage, stage four of cancer. There is no stage five.
After being prescribed various treatments including the recommendation for a triple organ transplant she decided to explore other alternative options. She made a documentary of her Journey called "Crazy Sexy Cancer" and also has a book called "Crazy Sexy Cancer Tips" On the show she revealed that her tumors on her liver and lungs are completely stable. Kris says "I'm happy and, I think, healthier than I was before I was diagnosed. She also says "A lot of people look at me like I have 10 heads when I say it, but cancer's been my guru, it's my teacher it teaches me every day the hard things and the beautiful things."
She talks about how her desperation turned to inspiration and how she was able to change her focus. Watching her go through all she had endured and continuing to learn to love life, and learn how to live life in the moment was very eye opening and awe inspiring for me.
The next story was about a man named Dr. Randy Pausch who had delivered a farewell lecture at Carnegie Mellon University. The 46-year-old professor and father of three preschoolers has incurable pancreatic cancer. Randy gave the inspiring lecture once again on Oprah's show. Everyone should watch it.
The documentary Crazy Sexy Cancer airs tonight on TLC 8/7c – I'll definitely be watching it.