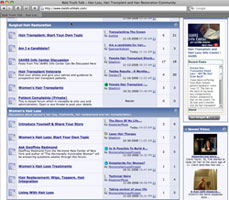 Hi everyone –
As I am sure everyone is already aware, the Internet can be such a wretched place for men and women who are searching for answers for their hair loss. When I started losing my hair 9 years ago, the online resource options were pretty slim, but what made it worse to me was that the available online forums seemed so depressing, confusing and darn right ugly at times. People fighting and no direction really sent me more into a downward spiral, of course so did everything else.
  This is why I wrote a post last September 10th explaining my thoughts and opinions on online forums in general, and why I had chosen not to include one on this site. I have sort of softened up my opinions on online message boards since that time and understand now the value it can have for some individuals. I realize that if forums are cultivated in a respectful, professional and loving manner that they can be a huge value to people.
A new forum has recently been launched by the founder of The American Hair Loss Association. The forum titled Bald Truth Talk http://www.baldtruthtalk.com is aimed to create a safe platform for men and women to get real information and support without the confusing junk that often times infiltrates online message boards. To read an article about this new resource visit: http://www.thebaldtruth.com/news/baldtruthtalk-new-hair-loss-forum/
I am proud to be a part of this new online support message forum. I am already a member over there and will being doing my best to represent women with hair loss, and to share information and guidance the best I can. I want to make sure that women everywhere suffering with hair loss knows they are not alone. The only thing worse than losing your hair at 21 years old, is to be losing your hair AND thinking you are the only one. In my 9 years of losing my hair the only thing that has really helped me to heal on a deeper level is helping other women. This has given my hair loss a purpose, it made it seem that it wasn't all in vain. Of course I still struggle, I am even in a tough time right now. But, I will continue to pray for strength and believe that tomorrow can be better. I will continue to write to women, I will continue to listen and I will continue my commitment to being a source of support for any woman losing their hair. Everyone reading this has the power to be there for another and to change another woman's life simply by listening.
But I digress (concentrate… concentrate)
Returning back to my original purpose of writing this post. I am particularly excited that Dr. Geoffrey

Redmond from the Hormone Center of New York has decided to  come on board to answer questions in the forum Bald Truth Talk. There is a section there titled "Ask Dr. Geoffrey Redmond" where women can ask their questions and he will be answering them weekly. The forum also has a great video library of different hair loss videos pertaining to all different things.
I encourage all of you to take the time the time to register for the website and I hope to see you there. If you do register for the site make sure to drop by my page to say hello.
Wishing everyone a very Happy Friday!
Peace, Love and Rogaine
Y