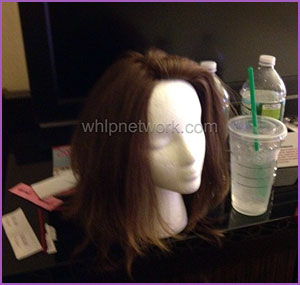 I love my wig, I think we've established that. But, now comes the rainbow of wonder. I wonder if… you know that rainbow.
As anyone who reads this blog knows I have always pointed towards wearing bonded hair as my personal end-all-be-all solution towards moving past this wretched hair loss nightmare. Many women are able to boldly make that leap, arms wide open and flinging themselves into the air only to find they have wings, and they fly with brave beauty and grace onto the other side and into bluer horizons. Others, like myself, stare off the cliff and look for the ladder, the rope, the bridge.. anything else. So I got a rope, no shame in that and am inching my way towards emotional freedom.
Wearing a wig is a process. Period. You have super highs and you have those "sometime" moments at the end of the day after wearing it for 10+ hours when you are thinking, "Get this off my head STAT." Moments of realization that this hair beauty has to come off at the end of the night, and you are bummed that this hair isn't more "part of you." Then come the soaring highs, the ability to leave the house WITH hair, not just any hair but amazing hair. The ability to "do" my hair in 2 minutes flat, no longer a slave to furiously trying to battle with the blow dryer to make my crappy hair looks less crappy. I have peace of mind. But.. it's not cleaning the house hair, or jogging hair — those things I feel aren't the most comfortable with a wig, and for me the jogging part would be impossible with the wig entirely. Now let me point out, I do clean the house with my wig at times, but if I'm doing the hard scrub cleaning, it's not going to be the most comfortable for me with a wig on when you are contorting yourself in 10 different ways to get behind the toilet. So the wig comes off and the old me resurrects itself, which can bring me down. That's why I still look over the fence peering onto the other side, wondering if wearing bonded hair would be better. It has it's own set of issues for sure, and in another article I'll explore the Pro's & Con's of Wigs Vs. Bonded Toppers.
Ultimately, I think both provide freedom with each having their own set of lifestyle "minuses" and "pluses."
So far my wig minuses are few, and the pluses many, but I still have those *sigh* moments, where my fiancé reminds me, "Be thankful for where you are now, and that you made this amazing life changing step, just be happy." I am happy dammit! Is there a pot of gold at the other side of MY rainbow of wonder or a pot of sand ? I don't know. That's why it's a rainbow of wonder.
This is a journey, a process, it will take time for me to fully accept the 2.0 version of me, or the 2.1 or 2.2 or 2.3. But without a doubt, getting a wig was the best thing I've done for myself.