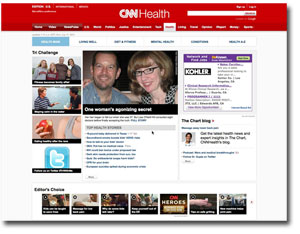 As women dealing with hair loss we often want to conceal the fact that we are enduring a struggle that we feel no woman should have to be faced with. It's a secret, and for many of us, it's a very dark one. It's not easy to come out to friends or family, for fear of not being understood or sheer embarrassment. Which is why I was so proud to hear that Lisa, a longtime member of the Women's Hair Loss Project, was coming out of the shadows and sharing her story in a big way – front page of the CNN Health section. How's that for an audience?
The story is titled, "An agonizing secret: One woman's story of loss." It is an honest, and heartfelt inside look into the struggles of being a woman with this condition. Knowing Lisa, makes this story and reveal all the more emotional and amazing. Despite having understandable hesitation and reservations about "coming out," she persevered. Being a woman who has essentially lived in hiding with this condition, only using an initial as my identity on this site , I'm in awe of what Lisa has done. Sharing her story brings awareness to women's hair loss, and it lets other women know that they aren't alone in this. We don't have to be silent, we don't have to keep it to ourselves. Sharing is healing – I believe that.
Lisa joined the WHLP in June 2008, and quickly became a beloved member of the community and a close confidant of mine. While struggling through the sadness, we often found laughter in making light of some of the idiosyncrasies of dealing hair loss, we shared more than our hair loss, we shared our lives – as many women do in the network.
I encourage everyone to visit CNN Health and read Lisa's story. We often live in the shadows with hair loss, and it is a proud moment for us all when a woman steps forward and represents us all – our feelings and our struggles.
To Lisa: Celebrate today, and never second guess the amazing thing you have done. Be proud and feel strong. If you cry, make them happy tears! I'm crying happy tears for you. Your path is one I hope to take one day – accepting myself entirely as being a woman with hair loss and willing to stand tall and share that with the world. For now, I'm still that lonely initial, "Y."  🙂 Much love to you girl!
I'll be interviewing Lisa later this week about her decision to come forward with her hair loss story.