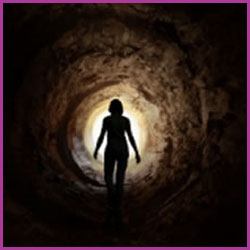 In communicating with a fellow network member today I was reminded of some thoughts which I wanted to share with all of you.
Dealing with hair loss has been hard, very hard. I've felt it has robbed me of many years of my life because I spent so much of my 20's hiding, making excuses, avoiding social situations and really feeling completely uncomfortable in my own skin. I placed walls around me and rarely would let anyone in. I was a stranger to myself.
With time… a lot of time, I became more accepting of my current hair loss situation. I no longer prayed for all my hair to come back, I really prayed for strength to deal with this hand I've been dealt and I prayed for the courage to take the next step towards moving on. With the passing days/months it did get easier to deal with my hair loss and as the years progressed, while I'd still slip back into my own self loathing and depression, my "down times" became shorter and my recovery times much faster. Most days I can stare at a pile of hair in the sink that used to render me a sobbing mess, and just say a few curse words and send the mess down the toilet. Au Revoir. Other days, it takes the wind out of my sail, but never to the extent that it used to.
Most of the time we speak of what "such and such as done to us," but not nearly as often do we sit and ponder what "such and such" as given us. There is no question that hair loss took a lot from me (because I allowed it to), but it also gave me things… it gave me a deeper understanding of human emotion, it afforded me a whole new perspective on things and life, it handed me appreciation for many things I previously took for granted and it taught me to be more patient – albeit not nearly as patient has I'd like to be 🙂 It also showed me that I was stronger than I had previously given myself credit for.
I still struggle with the sadness, but I do see light at the end of tunnel, where years ago I saw none. That light isn't a cure, though that surely would be nice eh? Rather, that light is me being the person I want to be – accepting of every aspect of myself and confident in who I am. Someone who no longer runs from myself, no matter if I have thin hair, no hair or I'm wearing hair. The best part of this, is that this is a light for which I control the switch.
We are all so much more than our hair, and I challenge everyone to think about how their hair loss has positively impacted their lives. I know many of you will think I'm crazy and maybe want to throw a tomato at me for suggesting that hair loss could have had any positive impact at all, but that's why it's a challenge 🙂 Our experiences change us, and it's so easy to only see the negative. Without hair loss, I wouldn't have met the thousands of beautiful women who have joined this site and who have shared their stories and their lives. I wouldn't be who I am today (for better or worse).  I've taken so many steps backward on this journey, but if I look at the whole picture, I realize I've still come out ahead.
Happy Friday To Everyone!