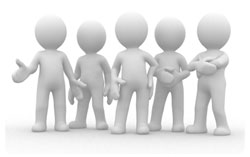 I am noticing a lot of new traffic coming in from different places and I wanted to welcome all the new reader's to The Women's Hair Loss Project and to write a little about our community. I started this blog to basically start journaling my life with hair loss. I write my daily thoughts as they come to me with all my quirks and sadness too. I write about my past regrets in treating my hair loss, the daily dealings of living with hair loss and some more lighthearted things such as my quest for the perfect hair thickening shampoo and my silly idea for a bumper sticker that says "Be Nice To Me, I'm going Bald!'
This is my life with hair loss.
I really would like to touch the lives of more women to let them know they are not alone. I've come to realize that a lot of women suffering with hair loss experience much of the same feelings as I do. Everything I thought was just me being crazy turned out to be more normal than I had imagined. For women I think that once you become a hair loss sufferer, no matter what steps you take to treat it or improve it, you are always still missing a little something, a little part of yourself. When women have the chance to read other women's stories it can be healing, I know it is for me. You can read my hair loss story here.
Already we have a lot of great supportive women who share their stories and their lives.
Read Julie's Story and see her pictures and read her wonderful put together wig buying tips.
Read Taylor's Touching Story. She has endured so much at only 17, yet she is so strong and I admire her greatly.
Also Read Amy's Story and Mira's Story along with her story on how her husband (then boyfriend) reacted when he found out she had hair loss, along with another comment she left about an inspirational hair loss story
Finding all the Posts
There is so much to read on this site and it seems that some of the articles can be difficult to find, [click to continue…]
{ 30 comments }