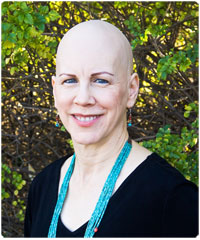 Written by Mary
Hi everyone,
I've just joined and I want to share my alopecia journey with you. This may be longer than it's supposed to be, but I hope my experiences will help someone. If you want to put a face and voice to this narrative, please check out my YouTube video entitled "Alternatives to wearing a wig".
I had patchy alopecia for 7 years, beginning out of the blue in my late forties. The round spots were always confined to the back or sides of my head, and were easily hidden under my thick brown hair. The frequency of the spots increased in the last few years, but they always filled in after monthly cortisone injections. My daily routine was checking my scalp in the mirror for new spots and for the status of old ones, and applying cortisone cream. I always worried about the spots moving to places on my head that would show. But, after so many years, I also sort of figured I'd never lose all my hair. Wrong.
Exactly a year ago, my hair loss began to rapidly progress. New spots appeared on top where there had never been any; old ones enlarged to take up most of my scalp and merged with others. I obsessed about losing it all, and was often depressed and crying. By January 2008, I had as much bare scalp as I had hair, and the bald areas were too extensive for cortisone injections. We took some final photos the night before I shaved my head on January 30, 2008. I saved some pieces of my hair. The photo you see was taken right after my head was shaved, and still shows stubble and my real eyebrows and lashes. I have no eye makeup on in this photo; my eyes were dark and my eyebrows very distinctive.
I felt better immediately! No more scooping up hair from the floor every day. No more examining my head to check the bald areas. No more crying over the spreading bald spots. And, it was much more comfortable under a wig or scarf than when I had the patches of hair. Shaving it all off gave me a feeling of control.
Via a local support group, I heard about a casting call for "Shear Genius" on Bravo, and was one of 8 bald women with alopecia featured on an episode that was filmed the end of March. At the taping, I still had my eyebrows and lashes, but they were gone by mid-April. The show aired July 23, and many times after that. (You can see the whole episode on YouTube under "Shear Genius 2 Episode 5".) It was a great experience meeting the other women, all of whom had been bald for many years. I'll probably never wear the wig from the show – way too heavy and thick, and I picked a color that wasn't a good choice. [click to continue…]
{ 11 comments }