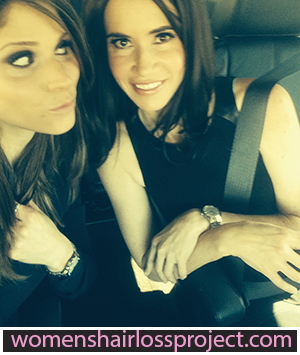 Hi girls. I was planning on making my first trip to Follea in the fall but I had an incredible opportunity to go last week – so, hello, I went! Our lovely admin is piecing together a video on my visit so that I can share that with you (stay tuned). I'm going to post a few more blogs on my visit to LA and how it has helped me with my acceptance and growth but I want to share my Follea visit because it is about, well, hair (mostly anyway, haha).
Without going through my l-e-n-g-t-h-y journey to finally get to the hair wearing phase (cuz, you'd be missing at least a week of work!) I'm going to go straight into why I travelled almost 4,000 km to go to Follea.
I am two years into wearing hair and I would say one year in completely being used to my new normal, normal being wearing wigs full-time. I have been through a number of pieces that, looking back, were great to start but as I grew in my journey, I felt my hair-wearing needs changed. I would have to say to finally get to the stage of accepting that my hair was leaving me and that I needed to re-gain my life, was a very long, painful, sad, arduous journey. Phase 2 of the journey was getting used to wearing hair, any hair – it was just as difficult in its own right but thankfully not near as long. I know that lots of women here on the WHLP have echoed the same sentiments but I cannot stress it enough, cut yourselves a break ladies, hair loss sucks and she's a tough one to plow through.
Fast forward, so I am at the hair wearing stage and what has happened in two years? Well, I went from toppers, to shaving my head, wigs, letting the hair grow in (cuz, somehow it was going to re-grow in thicker and much better, pfff) to shaving, to regrowing to finally shaving and keeping it shaved as I feel, in my case, I'm not fooling anyone and I look "healthier" in a shaved head. So, accepting my shaved head I began to think why not try a gripper and get rid of the wigrip? I never would have heard of Follea if it wasn't for WHLP and let's face it, Y rocks some killer locks, so I began to investigate. The more I stalked the Follea web-site and watched pretty much all their gripper videos – I decided, well if this is my fate (to wear hair), let's see if I can get THE hair and THE comfort to take me through life.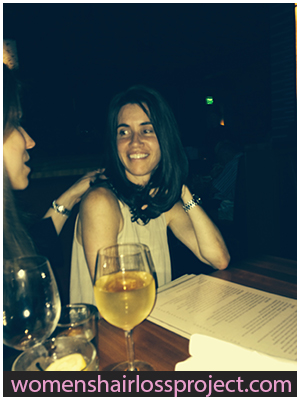 See how I ramble? Let me get to it (insert a fast forward zip noise here) it's Thursday, July 24th and I'm in Beverly Hills and walking up the Follea Stairs – they were expecting me. The salon has a waiting room, it is brightly lit and on the table in front of me is the current Follea catalogue that I downloaded a hundred times at home, haha. I get ushered into one of their private rooms with 2 chairs and windows showcasing the street, oh, oh, and oh, they have a little wee dog in there that was hair dyed blue and I almost forgot about the purpose of my visit and was on my hands and knees telling him how much I loved him (I know…) I'm in the chair and 3 grippers are brought to me (I had asked for 3 colour samples). I felt like Goldilocks, cuz the third one was "just right". Just right? Hot dam, the cap fit like a glove, the colour was the old me and the hair? I have three words for you: OOH-LAH-LAH! Pfff, you think there was any way I was leaving that salon without that vixen on my head? Not a chance. All light heartedness aside, when I put "the one" on my head I was overcome with emotion. I used to never wear bangs and with my current wigs I wore bangs because I felt the hair line was too blunt and "obvious" but the wigs were pretty good and I eventually got used to and liked the bangs. Seeing myself with no bangs really brought me back to the "old" me. My grandma is one of the most important people in my life and I talk or see her every day, she has been amazing with my wigs but I know she found my wigs a little too heavy and they swallowed my face a bit. I thought of her immediately and how she would be so happy to see my face again (I know, excuse me while I get a tear wiping tissue). By the way if that didn't get you, this will – she teared up when I got home.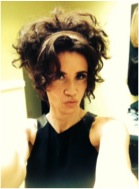 Let me tell you about the staff at Follea, Michael, the amazing "Vicka-Scissor-Hands" and all the girls were so fun, kind, funny, compassionate, awh-mazing (I almost stole the dog, ssssh). Follea had a photographer there that day as they were photographing new hair on mani's for their current catalogue, they completely embraced me and I got to play hair "dress-up" with Vicka as she was feeling creative and silly, I got to try on different wigs (damn them, I want them all – hahaha). I want to share a pic here of crazy run-way hair, if you look closely, the hair band is an actual wigrip! So funny. I had one of the most memorable days of my life, honest to goodness fun and I felt 100% normal and like wearing hair was no biggie.
I brought my gripper home and it's been a week now and I am over the moon with how the gripper feels – or should I say, doesn't feel. I have to double check the mirror when I leave my apt to see if it's on. I am so happy to be able to not wear bangs, to be able to comfortably wear sunglasses and put hair behind my ears. I did try on the aero and lifestyle caps there as well (why not, I travelled so far) and was equally happy with the cap and hair quality and the low-profile of how it sat on my head. I thought Follea was out of reach for me, but I take care of my wigs really well and I have learned that in most cases the wigs at Follea can be repaired (as in more hair added to them, caps altered, and hair dyed).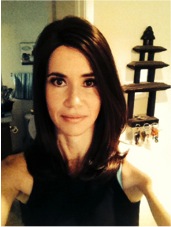 There are lots of different types of wigs out there, and each work differently for everyone. I have three types of wigs at home and they serve different purposes for me. I wanted to share my Follea visit because I know some of you may be contemplating Follea and I just want you to know that you should have no reservations about visiting them, they are welcoming and kind, not the least bit pushy and completely compassionate. My stage may be further along than you are in your journey but I am here to tell you that you can do all – be all – and conquer all, all while wearing hair. I do believe our needs change as we travel through all life throws at us, don't be afraid to seize opportunity and realize you deserve everything your heart desires. We are all more than our hair but our hair bonds us. I am forever grateful to all who get our journey and let us travel at our pace.
Thank you ladies, WHLP, and Follea for infusing me with passion, hope, laughter and the resources to get the old Lina back, but only this time I have a new zeal, new hope, new hair and new friends. Thank you for my re-birth.
Forever grateful xo