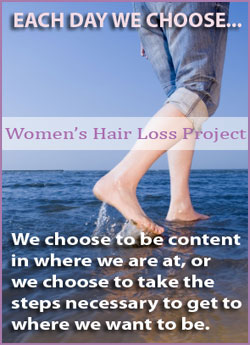 I'm often asked what was the final push or moment that led me to make the decision to starting wearing hair. That final moment was my 34th birthday, it came to me as I laid in bed and wondered how many more years I would give away to hair loss. I was 21 years old when this started and now zip zoom, I was 34. I blinked and 13 years were behind me, many tear filled days, sadness and despair, many lost social gatherings with friends and just a loss of me in general. Gone. Gone Gone. Never to return again is the time I missed out on, I can't change the past, but I can decide what happens from this point on. I was now 34 years old, later that day I  took the opportunity to tell my fiancé that "this year would be the year." The year I would just do it and make the move towards my hair wearing life. "By the time I'm 35 I will be wearing hair!" I said to him only half believing it probably. Easier said than done, ya know? I didn't know if that meant bonded hair or a wig, I probably was thinking more along the lines of bonding hair. I just knew it HAD to be something… anything. My hair loss had reached a point where I felt I could no longer hide it in the way I could in the years prior, it was beginning to really take it's toll on me and I was tired of all of it.
I spent the next month following my birthday trying to work up the nerve to make an appointment somewhere to begin exploring my options. The more I thought about it the more I realized I wasn't ready to bond, and I either had to wait until the day I'd be ready or start looking into wigs. I was done waiting, remember zip zoom? I didn't want anymore time to pass. So each day I'd scour the internet for wig videos, looking at tons of websites and then sit with the phone next to me staring at phone numbers on the screen paralyzed to call, I'd dial 3 digits, then hang up the phone with my heart pounding. I was praying a beta blocker would show up at my door step! I even asked my fiancé to call for me, he stated that he felt this was something I really needed to do myself. Jerk. Just kidding… he was right. If I couldn't make a phone call for myself to get an appointment, how was I even going to get through the appointment. I ended up doing 5 things:
1) Purchased 2 wigs online from Freeda, and ended up returning one.
2) Made an appointment with Flora (via email) in New Jersey which I later cancelled.
3) Went to the Milano wigs showroom in Los Angeles and bought 2 wigs.
4) Made an appointment at Lee Anthony in Orange County which I later cancelled as a result of already finding my hair.
5) Made an appointment at Follea in Beverly Hills
There it was, in that order 1-5. My steps to emotional freedom
By the way, that all transpired in approximately one week, if I recall correctly. I was obsessed!!! I couldn't do anything else, I even think I lost a few pounds that week from being engrossed in my wig searching activities. So that was a nice bonus, I've since added those back and a few more. Darn it.
I think many people who would see my hair after a fresh wash and blow dry would wonder why on earth I'd choose to wear a wig, I still have enough hair to look "okay" for everyone else I suppose, but it's a thin, fluffy shameful mess to me and it's still falling out. It makes me feel insecure, less-than, self conscious and unhappy. It's bollocks! (I've always wanted to use that word, seemed to fit well there, ha).  It's progressively fading away and it isn't coming back,  this I know for sure, so what was I waiting for? I had thoughts that haunted me and that were a source for much anxiety in my life. I feared if I never got the moxi to do something for myself, that I'd wake up one day and I'd be 80 years old and I'd look back on the life I'd left behind, and for what? My inability to "cope" and accept wearing hair? What a poor excuse to give up on my life. Perhaps on my 90th birthday I'd be ready to make the hair wearing leap! It scared me so deeply that I'd potentially sacrifice this gift of life because of my f'ing hair.
No mas. No more. Sure I'm still dealing with hair loss, my hair is still falling out, but I'm no longer a prisoner to it.
I resisted wearing hair for so long. After all it wouldn't be MY hair, it wouldn't be the hair I once had. It wouldn't be the same color, it wouldn't be as good, it wouldn't, it wouldn't, it wouldn't…. I could have written the book on "10,000 Ways To Keep Yourself From Moving Forward In Your life, The Power of Destructive Thinking" That should be my memoir, LOL, that along with "Sleep Your Life Away."
There are options out there, there is no reason to live your life feeling uncomfortable. While wearing hair doesn't change your current state of hair loss reality, it can give you your confidence and smile back, it can bring the joy and sexy back into your life. What more can we ask for?  It's not a perfect solution, there is no perfect solution apart from all our hair returning right? But, it can be pretty darn awesome if we allow it to be. I think our own outlook on wearing hair will ultimately determine our level of success with it. Never say never. You can do whatever it is you want to do. I believe each day we make a choice, we either choose to be content in where we are at, or we choose to take the steps necessary to get to where we want to be.
Wearing wigs ADDS to my life, it doesn't take away from it.
XOXO