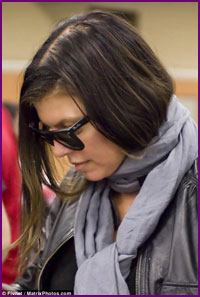 I recently came across an article in the popular online UK news website, Mail Online, titled "Newly brunette Fergie's centre-parting is one great divide." Catchy for a news title, and in my opinion,  cruel for the 33 year old Black Eyed Peas singer.  Women's hair loss is such a personal and emotional struggle, I can only imagine how much this article may have potentially hurt Fergie.  I think the general consensus is that celebrities are fair game to scrutinize, and point out every ounce of weight gain, facial blemish and anything just a little "off." But I disagree, I really feel that certain things should be off limits, and probably because I am bias, I definitely think hair loss is on that list of things to not exploit for editorial entertainment.
The article speculates that Fergie's hair loss could be from the usage of extensions that may have resulted in traction alopecia (a form of alopecia characterized by gradual hair loss caused primarily by a pulling force being applied to the hair).  It's hard to say from a photo what the cause of her hair loss actually is.  As many of us female hair loss gals know, often times we don't even know the cause. One thing is certain, Fergie's beauty is unaffected, she is gorgeous and would still looking stunning without any hair at all.
If anything good can come from this article, it would be that perhaps women suffering with any type of hair loss can know they are not alone in their struggle. My heart goes out to every woman who has to suffer with this.
{ 13 comments }