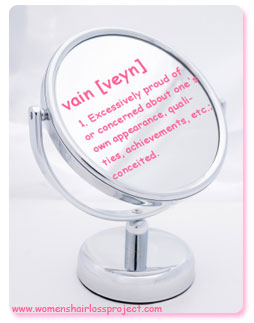 Hi, my name is Rosalinda and I have been losing my hair since I was 17 years old. I am now 22 years of age. I started out with a huge thick mane and now I can pin everything up with two bobby pins. Sad! I dread taking showers or brushing my hair. I close my eyes when I take my hair out of my brush. I've heard from doctors that stress can cause hair loss and I stress about my hair loss all day long. I went to see a movie this weekend and I spent half the time looking at Eva Mendes's full head of hair. I feel vain for thinking about it so much, it's driving me nuts. I am on Yasmin and have been on it since I was 19. My hair loss started before I began the pill and I have been assured by many doctors that Yasmin wouldn't make my hair fall out. I don't want to leave the pill because my cramps are so severe I can't function when I have them. I have had blood work and I am "fine" thyroid and anemia wise.
I don't even remember all the tests the doctors ran. The three doctors I have seen have attributed my hair loss to stress and genetics. The dermatologist recommended dandruff shampoo and rogaine. Rogaine helps keep my hair from falling out, I do notice a difference when I try to get off of it. I am currently using extra strength for men (dermatologist said to do so) but it makes my scalp very itchy and full of dandruff. Does anyone else experience this? So I have a choice…head full of dandruff or a head with some hair, *sigh*. I am going to see a doctor again on Wed. to do blood work again, since the tests I took before were two years ago. I am also thinking of buying the laser comb. It is pricey $395-$500. Yikes! I laugh to myself because I just paid $700 to do laser hair removal surgery on my legs. Ack!
I'm trying to rearrange all of my hair situations my body has. Too funny. I noticed that no one on the blog site really had anything to say about the laser comb. Perhaps I can be the guinea pig for all of you. Take pictures and what not. What do you all think? Should I do it?
-Rosalinda
*******************************
Dear Rosalina –
Thank you so much for writing and sharing your story. I know the exact movie you made reference to, "We Own The Night" because I did the same thing as you. I couldn't watch anything else other than Eva Mendes hair during the entire film. I've had that problem for quite sometime now, I actually wrote about that in this post titled "Hair Loss Can Quickly Become An Obession"
Are you Vain? I don't think so. I think you react in a very normal way to a disturbingly uncontrollable situation. Reading your email was like reading my own thoughts on paper. Trust me when I say I know exactly what you are going through, you used the words "thick mane" to describe your hair. I would as well to describe my former tresses that have since been replaced by thin fluffs of wispy hair. I actually use to get my hair thinned out at the hair dresser! Can you believe that??? My heart weeps when I think about that.
Since your hair loss started 2 years prior to you getting on the pill surely it cannot be responsible for the onset of your hair loss. In my opinion a doctor cannot state definitively whether the pill will make your hair fall out or not. Do they have a crystal ball? Likely not, and since most educated physicians know the possibility of hair loss occurring from the treatment of any synthetic hormones, they shouldn't state things as facts that they have no way of knowing in advance. It really bothers me when I hear things like that.
There are some women who do experience genetic androgenetic alopecia at a very young age without having had the hair loss be precipitated by any drug such as birth control pills or giving birth. Rather it happens simply because that was when they were genetically predetermined to begin losing their hair. If you don't feel that Yasmin has contributed negatively to your hair loss, then it probably hasn't. You know yourself best. You know how your hair loss was before taking it and also after starting the drug.
Birth control pills are a tricky thing, for some lucky women they can jump on and off them without the negative effects. For others who are not so lucky the act of going on the pill, or coming off them does something to the body that can kick in androgenetic alopecia at an earlier age than would have naturally occurred had the pill never been taken in the first place. I of course fall into the latter group of women… the unlucky ones. Having said that, the pill is also routinely prescribed by many physicians to help treat female pattern hair loss. The birth control that is chosen is usually a low androgen index pill such as Yasmin. I've read stories of women who have done well on it for their hair loss, and others who think it is the devil. I throw my hands up in the air with this one, like everything else with women's hair loss there seems to be no rhyme or reason. Everyone is so different an as such, so are the causes of our hair loss and the treatments we will respond to. Clearly you have a need to be on the pill because like you said you cannot function without it because of the severity of period cramps. Like I mentioned earlier, you know yourself best. Yasmin may not be having any negative effect on your existing hair loss condition, some doctors may venture to say that it could be offering protective measures against further hair loss as well.
As far as the Rogaine, I am glad to hear you are seeing positive effects from the treatment. Scalp irritation and dandruff is a pretty common complaint about he drug. I know that Gretchen had trouble using the regular Rogaine but has since tried Rogaine Foam and has written that it is a lot easier to use. You can read her post about it here. Perhaps you may want to consider trying that out and see if it is any easier on your scalp. It is definitely a good idea to see your doctor again and get all the bloodwork done in case anything has changed since you saw him/her last 2 years ago.
Lasercomb…this is a topic of much debate. Does it work? Some people claim to see positive effects from it others say it was a waste of money. There was a whole show on The Bald Truth dedicated to the efficacy of the product. You can listen to it here. I would certainly have used it myself if I felt I could withstand any possible temporary shedding that could occur from the treatment, but I can't so I don't even consider it for myself. Eight years ago, even five years ago it would have been a different story. I tried everything under the sun back then. Since this email you sent, I read your comment on this site that you have taken the plunge and got yourself a comb. I'm excited for you and to hear your progress with the treatment. Please keep us updated.
Rosalinda, the title of your email was "Am I Vain?" and I just want to say again, that you are not vain for wanting to feel good about yourself and get back something that was a part of you. The dictionary has the following definition for vain:
vain [veyn] – adjective
1. Excessively proud of or concerned about one's own appearance, qualities, achievements, etc.; conceited.
The definition doesn't suit the feelings and actions portrayed by women losing their hair. I don't feel vain. I just want to look normal and have enough hair to not feel so exposed and odd to the rest of the world who sees me. And to not look like a stranger to myself when I look in a mirror. That cannot be construed as vain.
Please keep us posted with everything. You seem to have maintained a positive outlook, even finding the humor in the fact that you actually paid to have hair removed on other parts of your body and as you called it "rearrange all of my hair situations." Continue to stay positive. I always try and maintain some sense of humor about my crazy hair loss life. Thanks again for sharing your story.
~Y