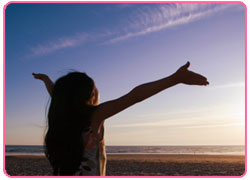 As I got up today I was pondering at what point do I let go of the thoughts that I need my hair. I certainly don't need it to live. If I was stuck on a deserted island I wouldn't mind one bit if I had my hair. But unfortunately by nature people seem to be incredibly judgmental, so the fact that at I live in a populated society in contrast to the solitary island, my mind convinces me that without my hair I am somewhat less than.
Less than… Less than… Less than what? Less than a woman with hair? Sounds ridiculous when I say it out loud or write it down. Who I am, and all my qualities certainly amount to more than the sum of follicles attached to my scalp. And I know in my heart, I am not my hair. We all have our challenges to face in life, and this, in this moment, is mine. I can either submit to defeat or accept myself. I choose to accept myself, however hard it is each time I look in the mirror. But I get stronger all the time, and I know I will get though this and be a better person for it.
When I first started losing my hair 8 years ago, I used to pray and pray that I would recover completely from whatever ailment or messed up hormone was causing me to lose my hair and that it would all grow back. As the years went by my attitude changed and I started pray that I could just keep what I had and have it stop falling out. More years past, and I started pray that I could be given strength to mentally deal with my hair loss and move on. That is where I am today. Oh course I want my hair back, I always keep hope that things may turn around, but ultimately I really want to learn how to accept myself as I am, today.
At what point do we let go? For me, its been quite sometime that I've been working on letting go and accepting myself more and more. I never thought that I could have endured all the hair loss and pain and loss of self, that accompanies it. But I have, and I do. And I still have plenty of happy, smiling, laughing moments even with the the thin wisps of hair that I have left. Those moments remind me that I will be okay.