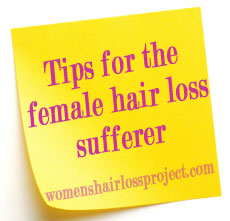 I hope for this to be a constantly evolving list with other women adding their own suggestions that have helped them. These are a few that have helped me to try and avoid focusing on my hair loss and just live a more normal life.
1. Be positive and maintain hope. Everyone's hair loss situation is very different, and yours may actually be telogen effluvium caused by some type of stressful event, or perhaps may be a temporary shedding due to a hormonal change. If it is not, you still must remain positive, even on the down days. Believe that there is a possibility of a brighter tomorrow.
2. Vacuum A LOT. I think the vacuum is the hair loss sufferers' best ally. By vacuuming frequently you avoid seeing all your hair all over the place. The less hair I see on the floor or on the counters the better I feel, even when I am shedding a lot. Constantly seeing your hair everyone is just a frequent reminder of your suffering and doesn't allow you to focus on other things (at least that is the way it is for me).
3. Get Rid of Your Shower Drain Hair Catcher. I'll wait while you throw it away 🙂 That thing is evil! Counting your hairs is one of the cruelest forms of self torment. I am guilty of it myself.
4. Invest in a sticky roller brush. I make sure before I leave the house that I've given myself a once over with those sticky roller brushes that are meant to pick up animal hair (I even keep one in the car). I do this because I would prefer to take the hair off my own clothes rather than have the person I'm with feel compelled to pick it off my back for me. UGHH. I hate that. If I was having a good day, that would ruin it for me. I once had a friend I was out with tell me how much hair I was shedding… gee thanks. This was early on in my hair loss and she had no idea I was losing my hair, but that certainly put a damper on my day. I also had another person tell me I was shedding like a cat, I think you know how the rest of my day went after a comment like that.
5. Ponytails can be your best friend. They are for me at least, and I wouldn't suggest tying them too tight because you don't want to pull out any fragile hair. I would rather tie my hair back to lock most of the hairs in place and keep them from falling out all over me during the day. Realize it will mean you'll probably see more hair when you do take out our ponytail, hair that would have fallen out during the day, but I would rather that than feeling my hair drop all over my neck and arms all day long, it's awful. It paralyzes me, and I'm completely unable to function.
6. Use a defrizzing gel. I have tons of fine hairs popping out all over the place and they are few in numbers, but a defrizzing gel sort of sleeks them down and makes my hair look more "together," instead of like a thin frizz ball.
Those are a few of the habits I employ to deal with my hair loss better, I'd love to hear any tips you have that work for you. You can add them here.
…TO Be Continued.